Belly fat makes all your activities heavier and makes you lose confidence when wearing in summer. Especially for office workers, when facing a lot of work pressure, belly fat is common for most people. Immediately refer to these causes from Drinkizz to see if you have the 03 habits below!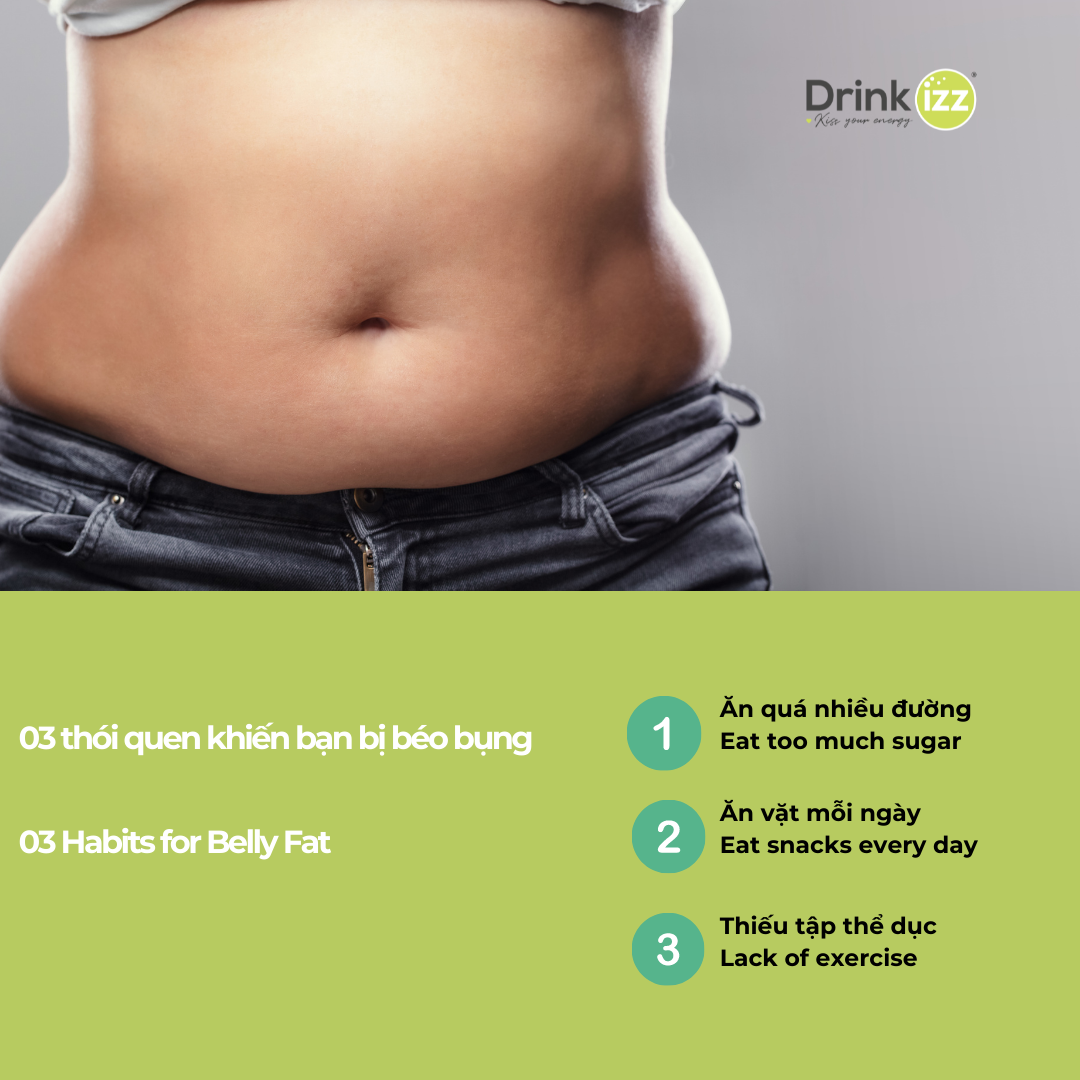 Eat too much sugar 
Sugar is found in many foods that you eat every day. From breakfast cereals, coffee, pastries, to energy drinks, many items in your daily diet contain more sugar than you are aware of. All the added sugar energy is quickly converted into excess fat. So make it a habit to read the ingredients and amounts of sugar in the foods you're eating. Particular attention must be paid to breakfast, yogurt, cakes and any packaged products. Avoid eating foods that cause belly fat and foods with excess sugar in your daily diet.
Eat snacks every day 
Snacking has become a regular hobby of most people, especially office workers. Just like how belly fat first forms, junk food contains too much sugar, and all those sugar calories quickly turn into fat.
You should avoid all snack foods and ultimately quit the "snack food" habit to prevent belly fat. If you're hungry between meals, eat a small amount of protein and fiber, such as a hard-boiled egg with cucumber or a packet of tuna with celery. This will significantly improve you.
Limit snacking too much, or you can replace snacks with nutritious and refreshing organic fruits and juices.
Lack of exercise 
Office workers are people who often face deadlines, stress, and a lot of work that leaves them no time to exercise. If you don't let your body exercise to release all the excess energy, the body will quickly store all the fat. Therefore, trying to exercise effectively, regularly, and in moderation will be the key to helping you stay away from belly fat effectively.
Drinking O.N.E can  doesn't worry about getting fat, because each can of O.N.E is measured for nutrients and helps your metabolism better every day. With sustainable energy from O.N.E can, , your body  will burn the excess fat easily