HONOR VIETNAM FLAVOR: DRINKIZZ WITH O.N.E DRINK AT TASTE OF VIETNAM 2022 WEEK – CENTRAL WORLD, BANGKOK, THAILAND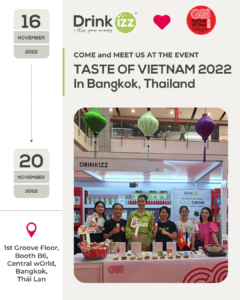 TASTE OF VIETNAM 2022 IN BANGKOK, THAILAND is an event held at Central wOrld in Bangkok city, Thailand by CRV – Central Retail Vietnam, the owner of GO!, BigC, Nguyen Kim,… and the Ministry of Industry and Trade. Vietnam. The event is organized with the aim of bringing Vietnamese cuisine, which is not only delicious but also healthy made from Vietnamese ingredients, to the lives of consumers.
The event not only honors the typical flavors from Vietnam, but also highlights the outstanding improvements coming from products introduced at Vietnam Product Week in Thailand. This is the 5th Vietnam Week in Thailand with the theme Taste Of Vietnam, jointly organized by the Ministry of Industry and Trade of Vietnam, Central Group and Central Retail Vietnam. The event will officially take place on November 16, 2022 at Central wOrld, one of the largest commercial and shopping centers in the world.
Drinkizz is very pleased to be able to bring O.N.E drink made from 10 Magical Vietnamese Organic Plant – Based Ingredients to TASTE OF VIETNAM 2022 IN BANGKOK, THAILAND as an innovative Vietnamese product! O.N.E drink not only has a delicious taste and light carbonated to bring you refreshment and relaxation, but also boosts immediate energy and helps to build sustainable energy to bring you strength  and beauty.
At the same time, O.N.E drink has a QR CODE for transparent tracing on Blockchain, you can transparently trace organic ingredients from the farm to your health nutrition information. When you have sustainable energy, you will have the brain energized, focused every day, doing the things you want. As well as having a beautiful, attractive body and being able to live with your passion from there, your life will always be fun and happy!
In this event, Drinkizz is very happy to have the presence of Ms. Thai Thi Hoa, Miss Earth Vietnam 2020, as Ambassador for DRINKIZZ at  the TASTE OF VIETNAM 2022 WEEK IN BANGKOK, THAILAND. Since 2020, Ms. Hoa has been working with Drinkizz in the role of Brand Advocate – because both sides support the value of health and the protection of natural motherland.
This spring of 2023, Drinkizz invites Hoa to be an ambassador  for the Tet campaign, representing a joyful cat year with persistent and positive energy. Therefore, Ms. Hoa participated in the TASTE OF VIETNAM 2022 IN BANGKOK, THAILAND event to support the health value of O.N.E drink (organic natural energy )  for the lives of Vietnamese and International consumers.And Ms. Hoa tells the story and love for O.N.E drink  with the trust of drinking up to 3 cans of O.N.E every day to go everywhere in her activities.
Today, November 16, 2022, Drinkizz team has been present from 7:00 AM to prepare for the event that will open from 10:00 AM with the desire to be able to welcome guests in the most thoughtful way with a menu. truly unique experience. Also with the hope that after this event Drinkizz can bring O.N.E drink made from 10 miraculous herbs of Vietnam to more consumers. With all our hearts, we are ready to welcome visitors:
Venue: November 16, 2022 – November 20, 2022. 1st Groove  Floor, Booth B6,Central wOrld, Bangkok, Thailand
Come visit us and bring back interesting gifts! Looking forward to you!