It's 12 noon, let's discover new drink with Drinkizz!
Digest Energy is a harmonious combination of O.N.E drink and ingredients such as aromatic juices, ginger, lemon, and panda syrup. Very suitable for your lunch at the office.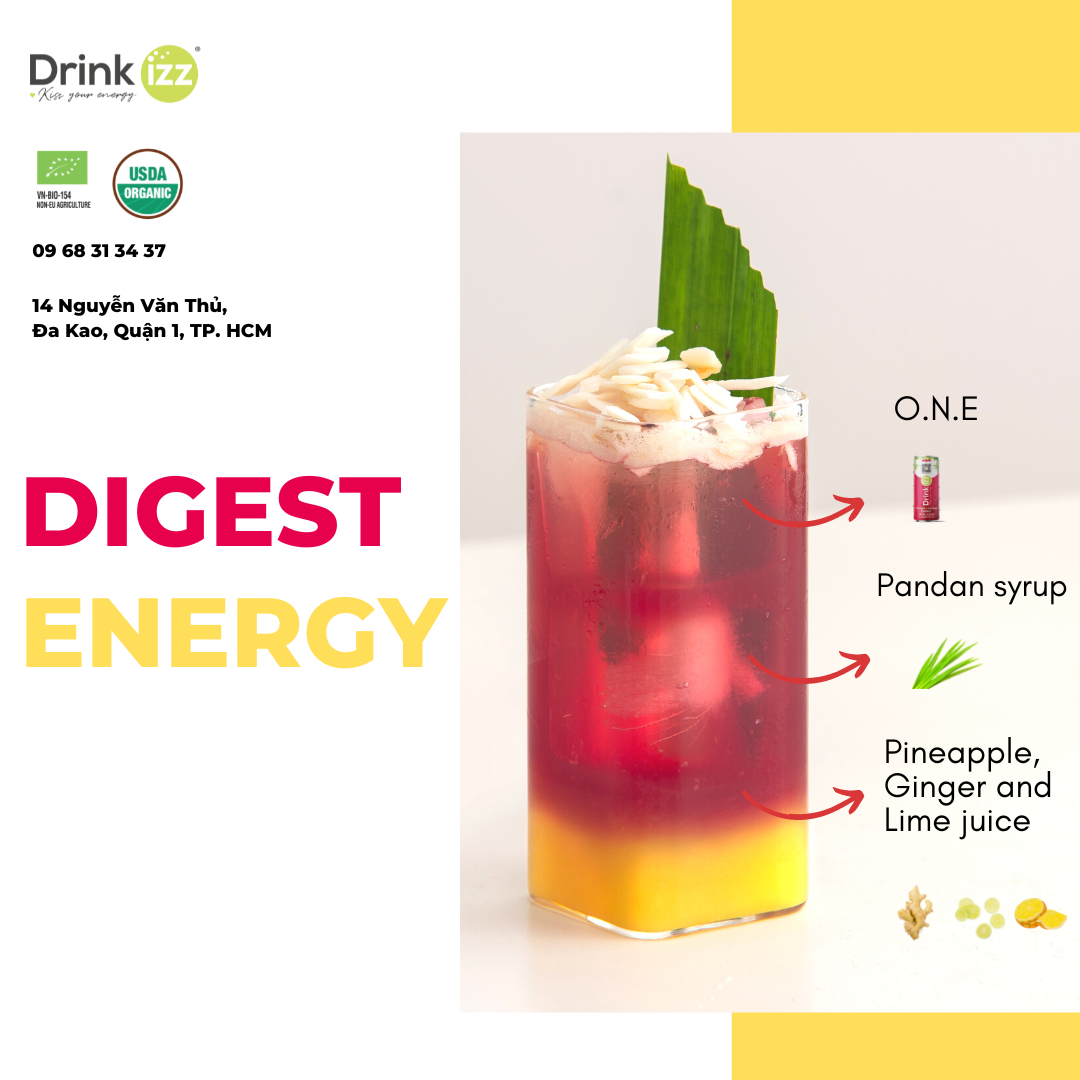 The  Digest Energy includes:
✅ O.N.E drink will help you have moments of relaxation, recreating the energy lost due to the heat of the blazing summer, together with an appealing, fresh fruit flavor that instantly quenches thirst.
✅ Pineapple juice is high in manganese, copper, vitamin B6 and vitamin C, all of which help with bone health, the immune system, wound healing, and overall energy levels.
✅ Ginger provides a source of natural antioxidants and its anti-inflammatory effects, antiemetic, anti-microbial and several other properties known in both indigenous knowledge and scientific community.
✅ Organic lime help boost your immunity, antibacterial, reduce heart disease risk factors, prevent kidney stones, aid iron absorption, and promote healthy skin.
✅ Organic Pandan syrup brings you a fresh aroma and is high in antioxidants, helps to balance free radicals, and rejuvenates skin!
The organic rate according to USDA and EU standards of Digest Energy is 55.56%  because some ingredients such as pineapple have not been certified USDA and EU organic according to Drinkizz standards.
Call O.N.E station now to enjoy this delicious drink for abundant health!
Order here: 
✅ https://shop.drinkizz.com/vi/
✅ Sales hotline: 0983 82 44 77
✅ Shopee: https://bit.ly/shopeeone1
✅ Grab: O.N.E station
✅14 Nguyen Van Thu street, Dakao ward, District 1, Ho Chi Minh City, Vietnam 
✅09 68 31 34 37