Heavy rains are on the rise around Ho Chi Minh city.  Whether you come home wet or dry, don't forget to treat yourself to a hot cup of tea from Drinkizz's energy and herbal tea collection to restore and protect your health!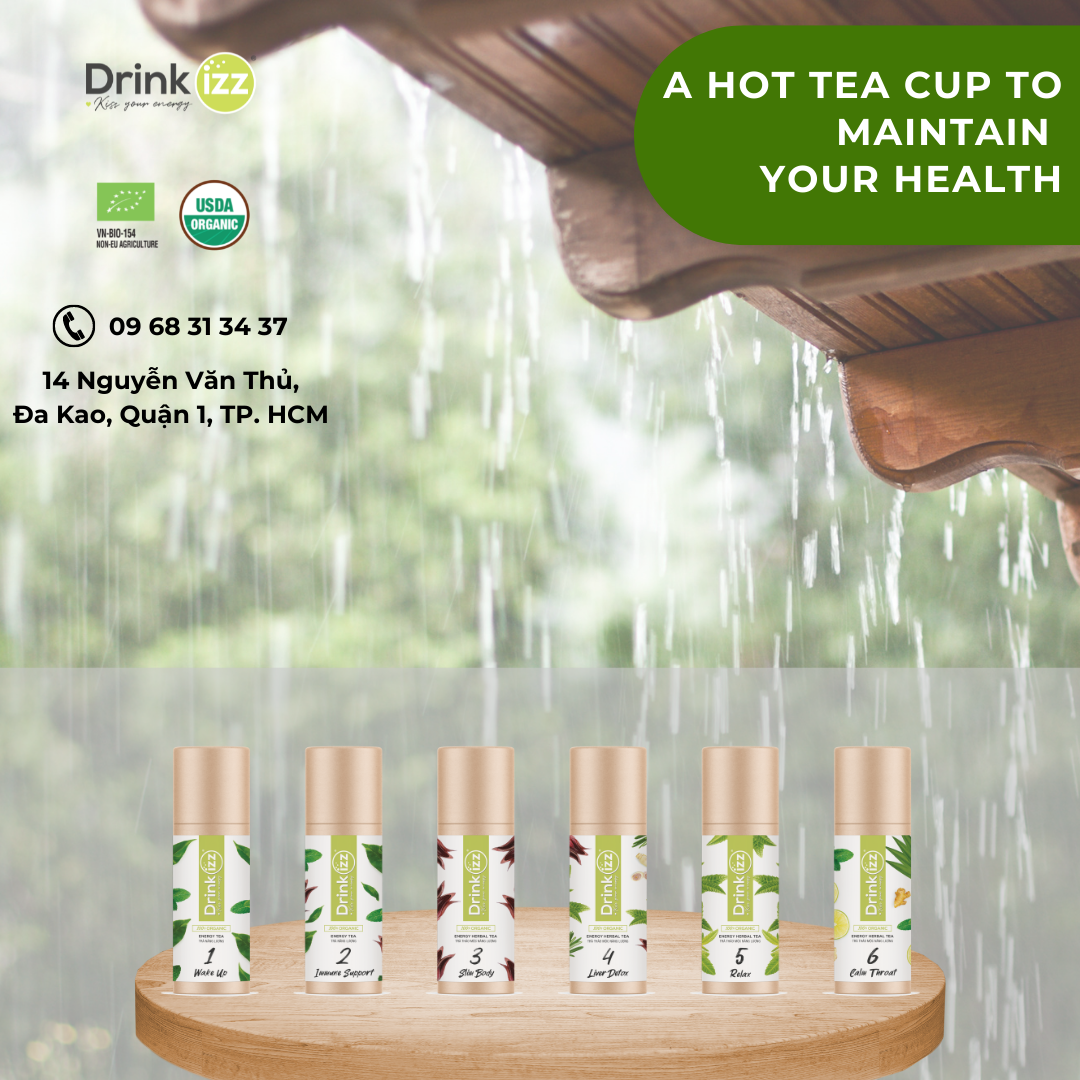 1️⃣ Energy Tea N°1 Wake Up is made with only one ingredient, Organic Shan Tuyet Green Tea helps maintain alertness.
2️⃣ Energy Tea N°2 Immune Support is made with organic Shan Tuyet black tea, organic mint, and organic hibiscus with the power of resistance-boosting Theine and antioxidants!
3️⃣ Energy Herbal Tea N°3 Slim Body with Organic hibiscus has the effect of lowering blood pressure, burning excess fat, reducing bad cholesterol, strengthening the immune system, detoxing toxins from the body, and supporting weight loss.
4️⃣ Energy Herbal Tea N°4 Liver Detox includes organic vermicelli, organic sage, organic rosemary, and organic hibiscus, which helps to purify the liver.
5️⃣ Energy Herbal Tea N°5 Relax with Organic vervain to relieve stress.
6️⃣ Energy Herbal Tea N°6 Calm Throat with herbs such as organic lemon slices, organic mint, organic pandan leaves, and organic ginger, to help soothe the throat.
Ingredients come from Vietnam's forests and highland mountain areas. 100% organic plant-based ingredients are certified based on EU and USDA international organic standards.
The next promotion is coming soon. Please update the latest news from Drinkizz regularly!
Come with us at:
 ✅09 68 31 34 37
 ✅14 Nguyen Van Thu Street, Dakao ward, District 1, Ho Chi Minh City, Vietnam
 ✅You can order "O.N.E Station" on Grab and Shopee Food!