Energy Detox and anti-stress on 30 April – 01 May
Instead of being crowded in places full of dust and traffic jams, why don't we treat ourselves with a cup of hot tea in the early morning, with the green leaves hanging down the entrance gate and the garden full of flowers, belonging the cozy family space. 
After taking the first sip of tea, you turn the pages of the book, chill with jazz music already played in the house, then you will feel more strength when having chronic stress and lost time from workplace. We will be comforted by the light herbal favor which made by all natural ingredients from the highland of Viet Nam.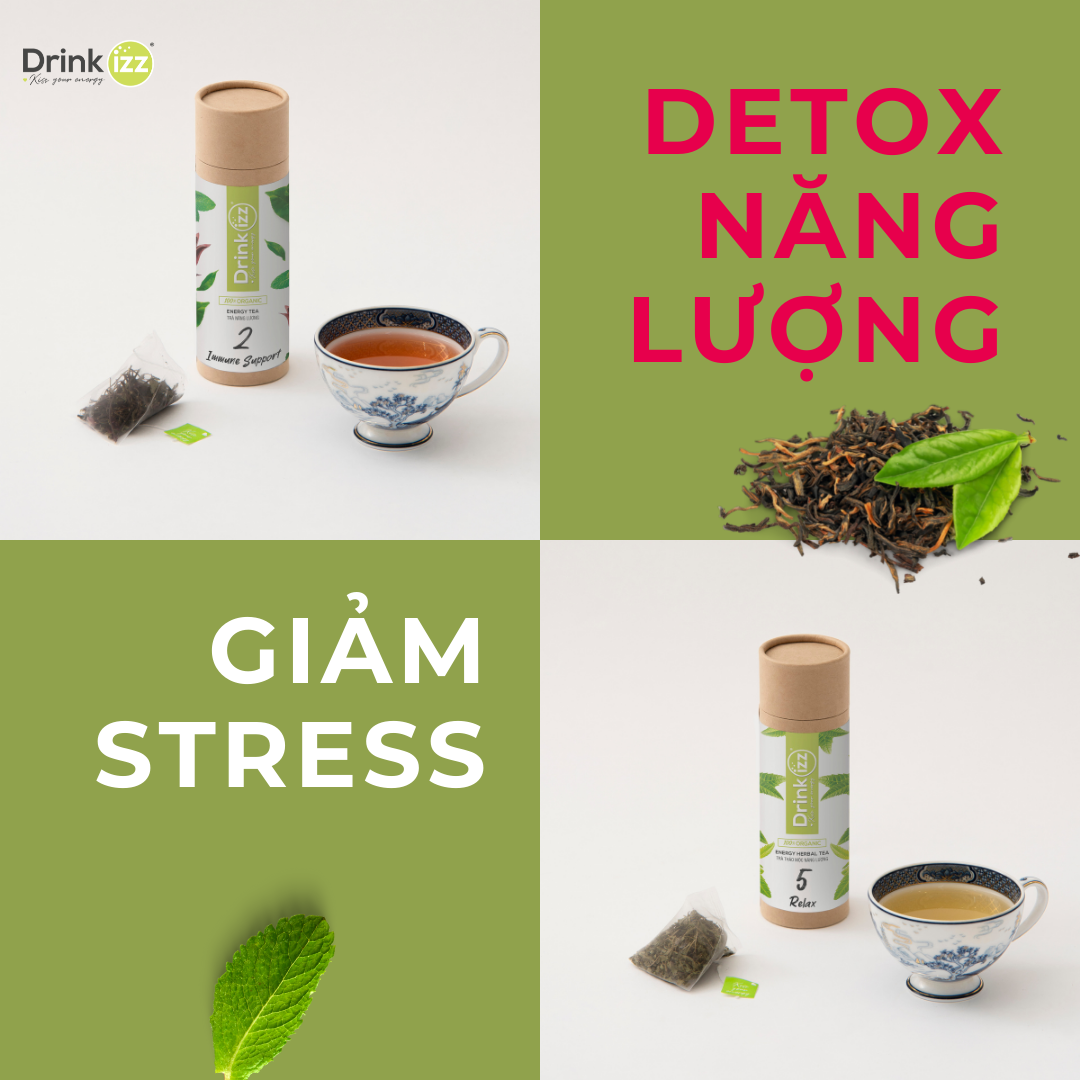 Drinkizz are launching several energy tea and energy herbal tea tube with health benefit to serve you. You can rewarded yourself or give your family: 
Energy Tea N°1 Wake Up is made with only one ingredient, Organic Shan Tuyet Green Tea helps maintain alertness

Energy Tea N°2 Immune Support

made with organic Shan Tuyet black tea, organic mint and organic hibiscus with the power of resistance-boosting Theine and antioxidants!
Energy Herbal Tea N°3 Slim Body

with Organic hibiscus, has the effect of lowering blood pressure, burning excess fat, reducing bad cholesterol, strengthening the immune system, detoxing toxins from the body, supporting weight loss
Energy Herbal Tea N°4 Liver Detox

includes organic vermicelli, organic sage, organic rosemary, organic hibiscus, which helps to purify the liver
Energy Herbal Tea N°5 Relax

with Organic vervain to relieve stress
Energy Herbal Tea N°6 Calm Throat

with herbs such as organic lemon slices, organic mint, organic pandan leaves and organic ginger, to help soothe the throat.
And what's even better, herbal energy teas are still being applied with a discount of up to 15% on the occasion of April 30 – May 1!
✅ Up to 50% – From 18/04/2022 to 28/05/2022 🥳🥳
✅ Website:https://shop.drinkizz.com/
✅ Hotline: 09 68 31 34 37
✅ Address : 14 Nguyen Van Thu street, Dakao ward, District 1, Ho Chi Minh City, Vietnam
✅ You can order "O.N.E Station" on: Grab and Shopee Food!