Need a new energy source to get through Monday with lots of ideas? A delicious cup of Energy Tea N°1 Wake Up, fitting with your favorite tea, is your perfect start to having an energetic and creative working day. The mild sweetness of Shan Tuyen green tea combined with the excellent taste of organic mint will conquer the taste of the "tea lover" team! Try it now with Drinkizz!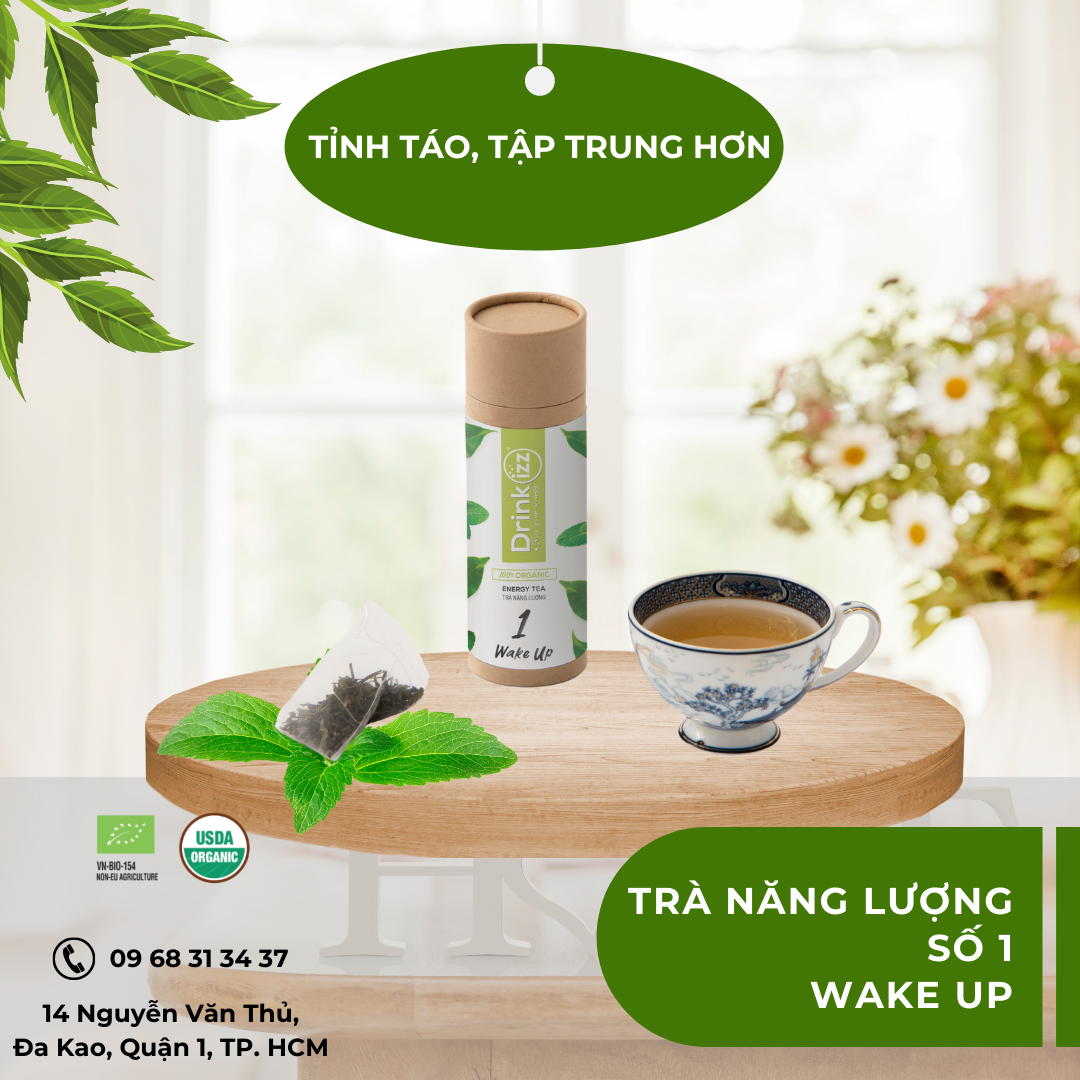 Energy Tea N°1 Wake Up, includes:
🍵 Organic Shan Tuyet Green Tea – Shan Tuyet Tea is the most delicious tea in ​​the Lao Cai region in Northwest Vietnam. The tea has a refreshing taste and a sweet aftertaste. The most prominent use of this tea is to help strengthen the immune system, commonly known as anti-cancer properties. Shan Tuyet tea supports you in maintaining a healthy immune system, prevents cell damage, and anti-bacterial protein. In addition, this tea also helps you increase alertness and focus.
🍃 Organic Mint – Peppermint can improve energy levels and reduce daytime fatigue. In addition, drinking peppermint tea can help improve concentration. You can gently inhale the tea before drinking it to help relieve symptoms of stress and headaches and calm nerves. Some evidence suggests that peppermint oil has the same pain-relieving effects as Tylenol or Paracetamol.
100% organic plant-based ingredients. Ingredients coming from Vietnam's forests and highland mountains areas are certified based on EU and USDA international organic standards.
☎️ Order at O.N.E station now! Up to 50% off sale!!!
✅ Up to 50% – From 18/04/2022 to 28/05/2022 🥳🥳
✅ Website:https://shop.drinkizz.com/
✅ Hotline: 09 68 31 34 37
✅ Address: 14 Nguyen Van Thu Street, Dakao ward, District 1, Ho Chi Minh City, Vietnam
✅ You can order "O.N.E Station" on Grab and Shopee Food!