The hot weather constantly changes between sunshine and rain, especially those with weak resistance. We will quickly feel tired and dehydrated. Reduced resistance is an opportunity for external intrusion such as bacteria and viruses to penetrate the body. How to increase the resistance body always feels healthy and fresh for you to get through this hot season? Not only stopping at physical activities and eating, but you can also add energy tea number 02 – Immune Support from Drinkizz, which is made from organic black tea, mint, and hibiscus flowers to your daily schedule. All are 100% natural ingredients with many health benefits.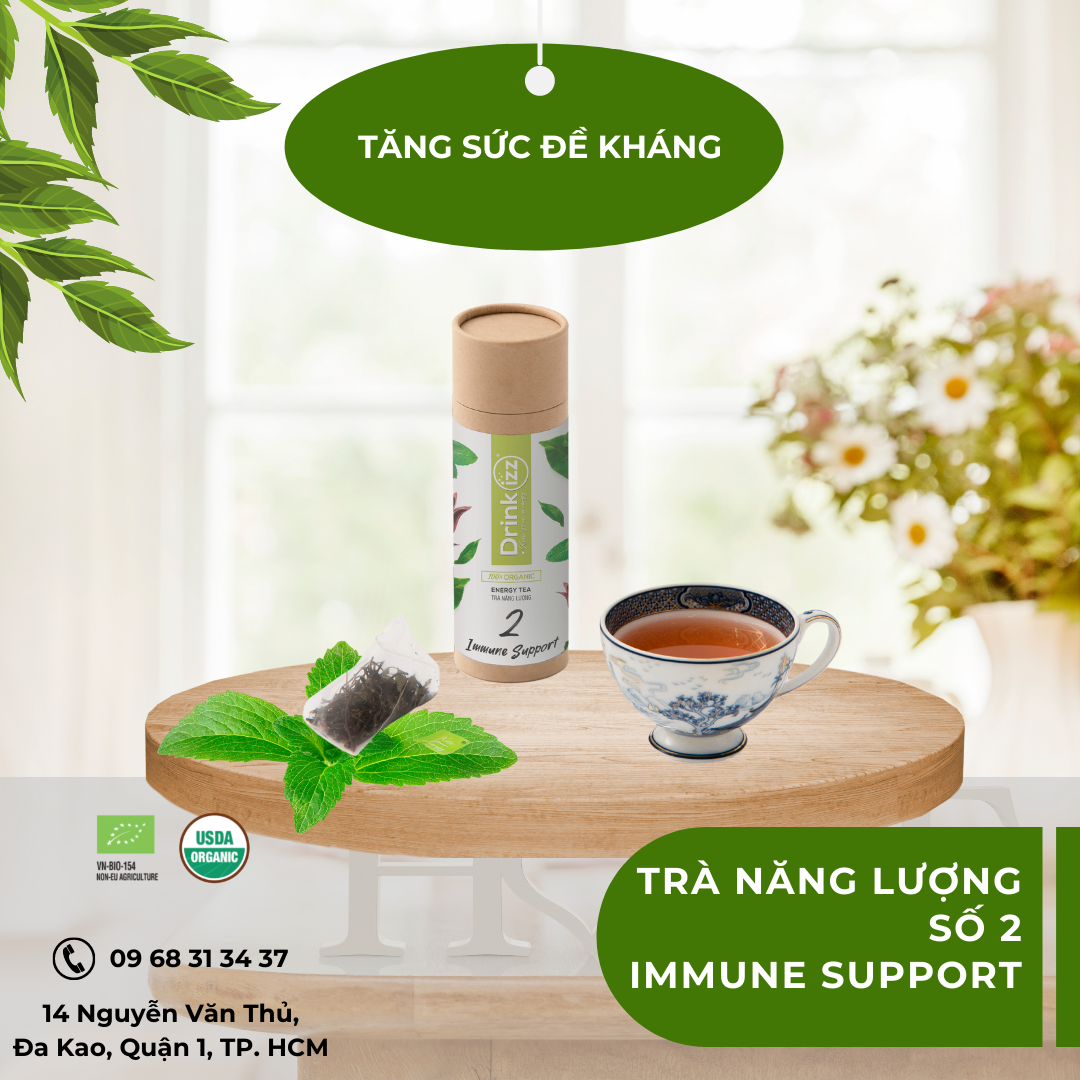 ✅ Organic Black Tea contains Theine, L-theanine, and Antioxidant Compounds. Theine in tea results from oxidized polyphenols, which have a stimulating effect on the nervous system. Theine is known to help the brain stay awake and focused but does not leave an over-stimulating impact on the body. Theine can last longer in the body – about 6 to 8 hours, helping to boost brain function and improve memory.
✅ Organic mint contains an antioxidant and anti-inflammatory called rosmarinic acid. Mint leaf has a sweet taste and a cooling effect that lingers on the tip of the tongue. Its scent can be scented through the olfactory system and gives a feeling of relaxation.
✅  Organic Hibiscus flowers contain large amounts of anthocyanins with antioxidant effects. These flowers are natural remedies, including improving liver health, fighting bacteria, losing weight, lowering blood pressure, aiding digestion, relaxing, and fighting depression.
Ingredients come from Vietnam's forests and highland mountain areas. 100% organic plant-based ingredients are certified based on EU and USDA international organic standards.
☎️ Order at O.N.E station now! Up to 50% off sale!!!
✅ Up to 50% – From 18/04/2022 to 28/05/2022 🥳🥳
✅ Website:https://shop.drinkizz.com/
✅ Hotline: 09 68 31 34 37
✅ Address: 14 Nguyen Van Thu Street, Dakao ward, District 1, Ho Chi Minh City, Vietnam
✅ You can order "O.N.E Station" on Grab and Shopee Food!