"Let's start your day with positive vibes" has always been my greeting for a new day. The stress of being too busy is getting more and more common in today's life. Some of us wake up to this bad energy and carry it on all day. Significantly during this pandemic time, this energy and your anxiety can quickly drain you out. Therefore, Quyen is here to save the day by introducing to you "Morning Power." Let's kick off your day with my brand-new recipe, which is a perfect combination between O.N.E Drinkizz and Cold brew from Laha cafe. 
1. Positive Energy Awakening with Morning Power! 
Morning power is an innovative recipe that wakes you up from the harmonious blend of O.N.E's unique organic herbal flavor, the signature chocolate scent of cold brew Laha coffee, the cool sense of mint leaf, and the sweet and sour taste tangerine, pandan leaf. The layers of aromas and flavors help you get more inspiration to start your day and maintain your energy for a long day.
Thanks to the combination of O.N.E Drinkizz and cold brew coffee, Morning Power will provide you with durable energy lasting for 6-8 hours; it helps to increase concentration and consciousness and enhance memory. Furthermore, you can gain more confidence with rosy skin thanks to the vitamins in tangerine juice. The cool and pleasant scent of mint and pandan leaves will calm you down, maintain a refreshing mood throughout the long day.
2. Ingredients and Instructions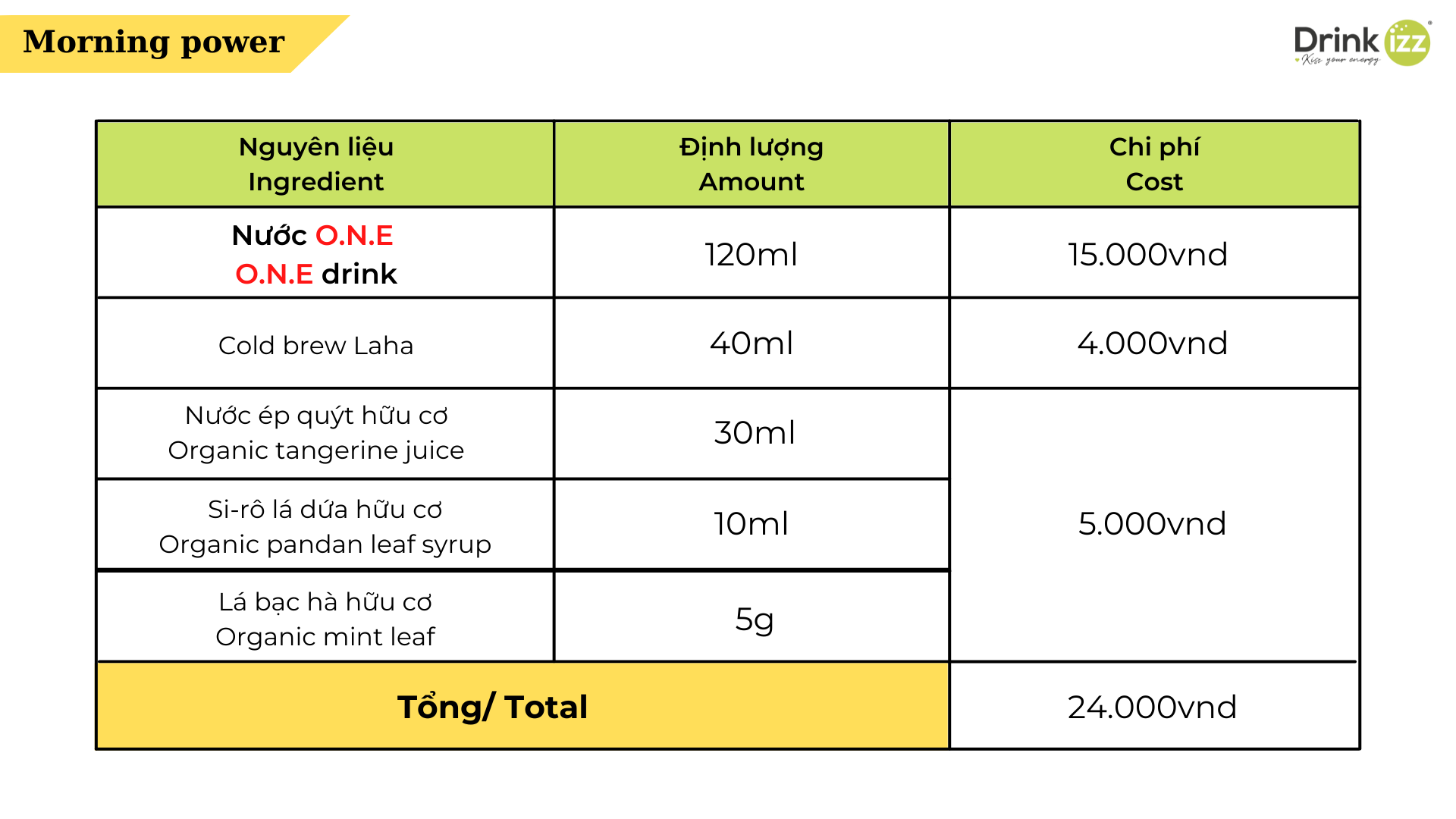 Instructions: (Just a piece of cake, so don't worry)
Start with a tall glass (or use your coffee glass at home).

Fill the glass with tangerine juice, Pandan leaf syrup, and cleaned mint leaf.

Muddle the mint leaves about 2,3 times for better flavor.

Stir it gently for a better blend. 

Pour out the Drinkizz, stir it well, then fill the glass with ice.

Pour the coffee gently on top of the surface so that we will have a 2-tier drink.

Lastly, decorate it with some fresh mint leaves on top and a straw.
Homemade Pandan Leaf Syrup: 
Boil 350ml of water.

In the meantime, wash and cut about ten pandan leaves into 4-5cm lengths. 

When the water boils, add pandan leaves and cook for about 5 minutes. Then add 300g of white granulated sugar and stir well until the sugar dissolves.

After the sugar is completely dissolved, turn off the heat, filter the pandan leaves. Then store the syrup in a bottle to cool down.

When the syrup is completely cooled down, you keep the syrup refrigerated for later use.
The above recipe has been adjusted so that the syrup retains the strong pandan flavor without being too sweet. If you don't have time, you can still find pandan syrup at any supermarket.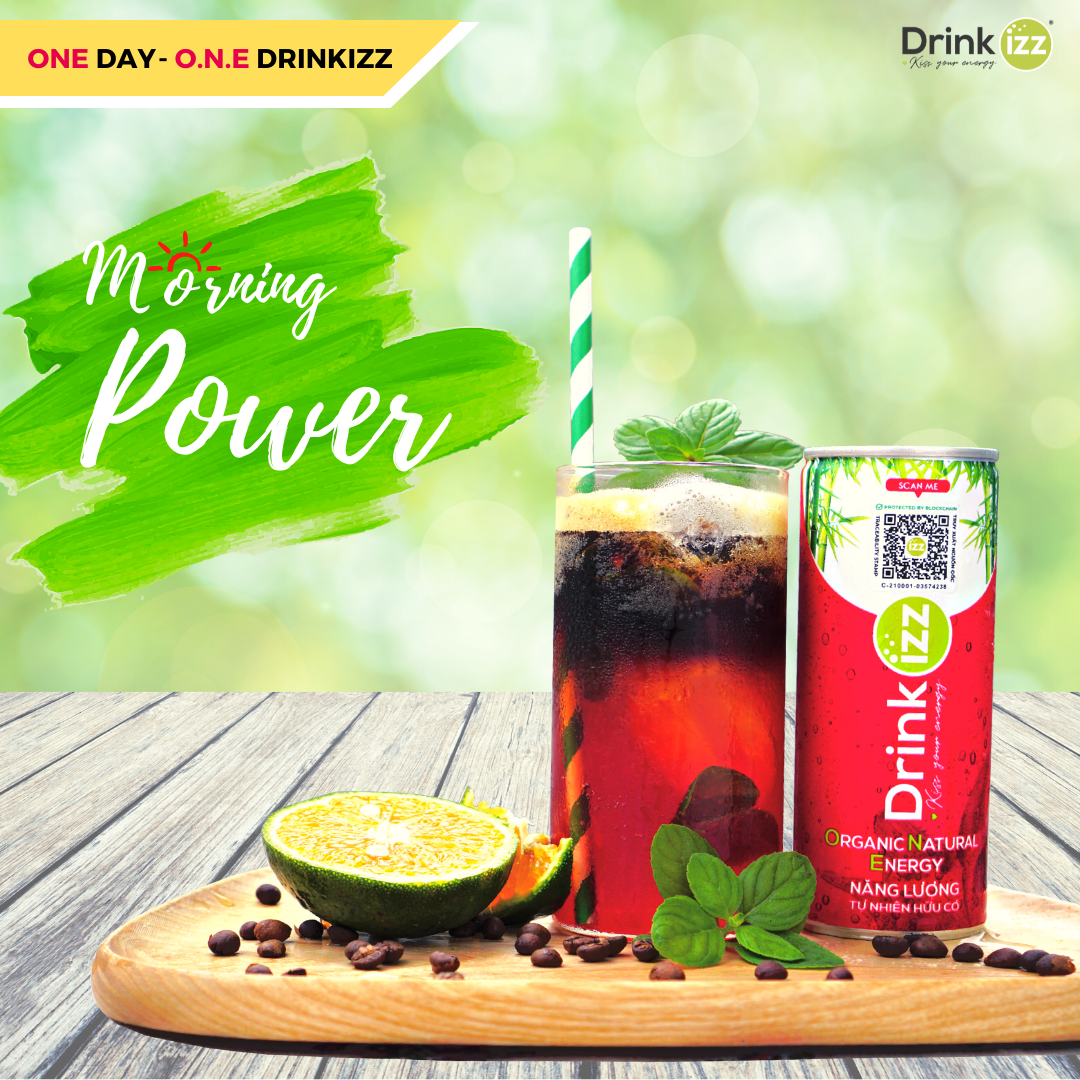 3. Nutrition Benefits
Each "Morning Power" glass has 120ml O.N.E containing:
12mg Theine, equivalent to 6.2% of the maximum daily recommended intake of 200mg (according to a 2000 kcal diet) by nutritionist Drinkizz. Theine helps to relax, wake up and focus from 6 to 8 hours. (Watch more here)
600 μmol of abundant antioxidants, equivalent to 6.7% of the FDA's recommended daily intake. Antioxidants help balance free radicals – the cause of disease and aging, and improve the body's energy metabolism thanks to antioxidants. (Watch more here)
8.4 mg of silica, which is 24% of the recommended daily intake. Silica helps in collagen production, which boosts the body's metabolism and energy levels. (Watch more here)

O.N.E can supplement many other essential minerals such as calcium, iron, potassium, magnesium, etc.

40ml Laha – cold brew coffee using 100% Cau Dat Arabica coffee seeds, containing about 3mg caffeine, helps push metabolism in the body, awaken your body senses, and significantly improve your mood. 

30ml of refreshing tangerine juice delivers vitamin C (ascorbic acid), which is a superior antioxidant. Vitamin C plays many vital roles, including protein metabolism, collagen biosynthesis. One of the essential roles of vitamin C is to protect cellular components from damage caused by free radicals.
Morning power is a secret key to starting a new day enthusiastic and energized, perfectly suitable for those who have a crazy work schedule or are constantly on the move. Quyen hopes that, through Morning power, every day when you wake up, cherish every moment and adore your energy even more!
Links for ingredients purchasing:
O.N.E Drinkizz:
Laha cold brew coffee:
https://www.facebook.com/lahacafevietnam/
Other ingredients:
https://ryansgrocery.vn/?lang=en
Nutrition facts: