Dopamine is a compound that gives you a feeling of happiness and helps motivate you to strive. Many people call dopamine the "happy hormone" because it's an organic chemical made from tyrosine, which plays several essential roles in cells. Dopamine has good effects on the human mind and body. A natural increase in dopamine will help positively affect the body and mind. When dopamine in the body is released in large quantities, you will feel excited and full of creativity. In contrast, low dopamine levels will make you sluggish, slow, and unmotivated to work.
So how to release dopamine regularly to increase productivity and more energy? Check out these tips from Drinkizz!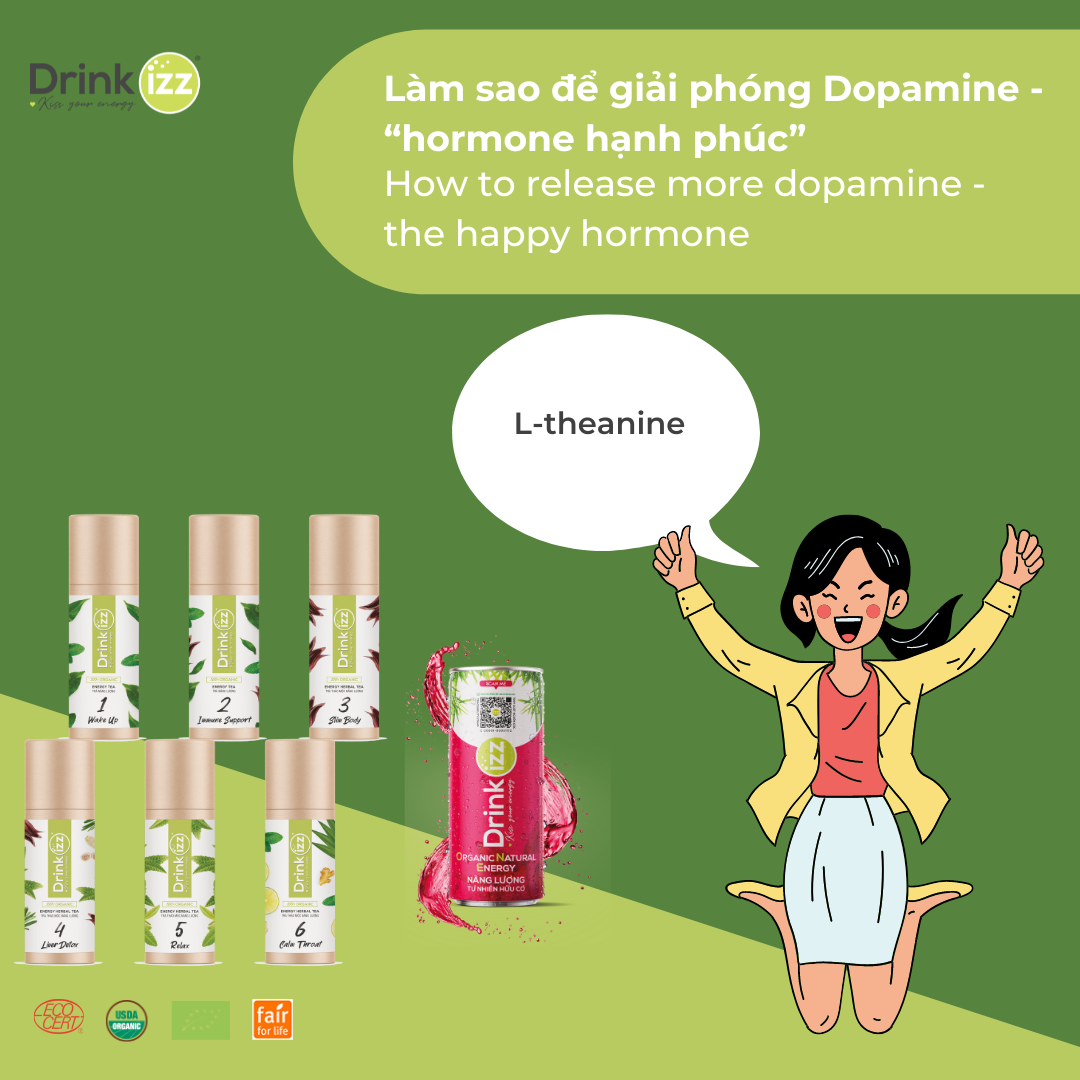 1️⃣ Exercise regularly
Do you feel you will be more excited and energetic after playing sports? That's right; exercising helps keep the body healthy and supple and is a way to increase the production of endorphins that have many benefits for the body. In addition, regular exercise also increases dopamine and serotonin levels, making your mood full of joy, excitement, and creativity.
2️⃣ Get enough sleep
If you lack sleep, you will run out of energy to work and be sluggish and tired? A lack of sleep disrupts circadian rhythms, causing a drop in the amount of dopamine in the brain. Dopamine will be released in large amounts in the morning and gradually decrease in the evening before bedtime. Therefore, try to sleep deeply enough and get a night of sleep from 7-9 hours a night to have an excited and happy mood all day.
3️⃣ Recharge organic natural energy
Instead of consuming many stimulants and unhealthy drinks such as alcohol, chemical drinks, organic natural drinks can still help you release dopamine without affecting your health. For example, you can choose a natural organic energy drink instead of chemical energy water. Instead of drinking industrial milk tea, you can choose to drink natural organic herbal tea. The O.N.E can and the  energy tea collection feature green tea and other organic herbs. Tea contains the active ingredient L Theanine, which can increase the dopamine level in the body (this active ingredient is only found in tea) and helps improve mood and balance emotions.
Follow Drinkizz to update useful information regularly!