Drinkizz's story began with three co-founders, Tyna, Pierre, and Linh; a trio of  Vietnamese-French entrepreneurs who have on-the-go lifestyles, passionate about innovation. They are experts in Organic Value Chain & Natural Energy, Digitalization, and French Gastronomy.
Founded in 2019, Drinkizz is a private company, headquartered in Singapore. We are an innovative company providing the market with the world's first O.N.E drink (Organic Natural Energy).
We use certified organic ingredients only, controlled with the best international labels, such as EU, USDA.
We apply a natural manufacturing process to preserve all the flavors of our drink and guarantee the natural nutrients with high quality for best impact on health.
We create a new concept of sustainable energy, which is safe for health, and which enhances both your strength and beauty. We provide  a magical mix of energy input with Theine to keep the brain awake, Antioxidants to improve energy metabolism, Silica for collagen production and many other important minerals.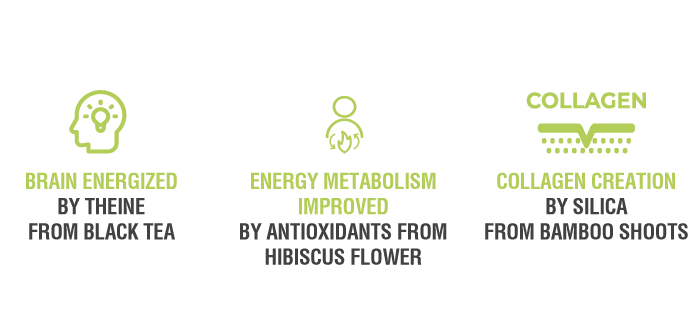 O.N.E drink boosts immediate energy and helps to build sustainable energy to bring you strength and beauty. 
Our vision is simple and strong, to be a caring company for better Positive Energy of our customers, our employees, and actors in the organic digital value chain, in particular the farmers who work hard for organic agriculture. We act locally and think globally to help this world be more fair and sustainable.
Drinkizz philosophy is Kiss your energy to live our passion in a sustainable way!
Drinkizz is an innovative company providing the market with the world's first O.N.E Drink (Organic Natural Energy).
We created a new concept:
We believe that in a complex and tense world, it is important to eat and drink properly to strengthen the immune system and conserve sustainable energy for long-term health. 
Drinkizz applies data digitization and Blockchain technology to make all data transparent from input ingredients, factories, logistics, distributors, nutrition to product recycling. With O.N.E drink, you know exactly what you are consuming from organic ingredients at the farm to nutrition facts on your body.
We have a production and distribution subsidiary in VietNam for the local market, and for international export.
Be a part of our team – Start your future now: