Dear friends,
Tet 2022 is an unforgettable Tet with many health issues and financial pressures after 2 years of the Covid19 pandemic. At the end of this year, it's challenging for young people to find Tet gifts that are high quality such as delicious and nutritious yet at affordable price to present to family, friends, partners and specially for themselves after a long hard-working year. Understanding that concern, Drinkizz has cooperated with Biophap, Snow Shan Ban Lien tea, Bazana smoked pork, which are  pioneer businesses and smart farmers in the organic agriculture in Vietnam to create the gift box: BOOST YOUR  ENERGY 2022.
This gift box contains 6 well-made pieces which provide powerful antioxidants, and organic quality without the use of harmful synthetic chemicals to help boost your immune system. In addition, the unique taste with regional specialties from the north to the south of Viet Nam helps you have a deep connection for mind and body energy during the epidemic season.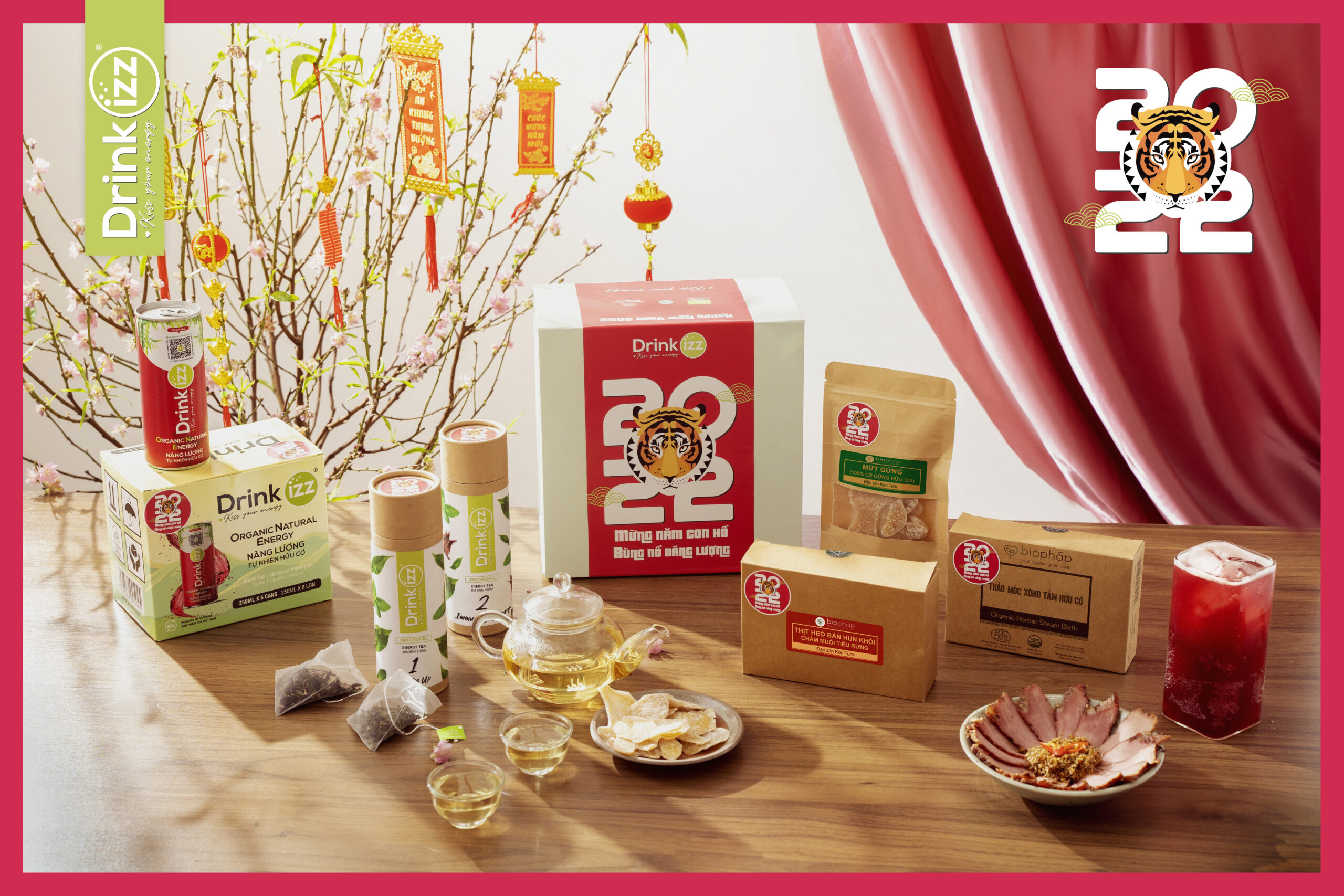 1. Why do antioxidants from the gift of energy help boost your immune system?
Energy is an important fuel for sustaining life. Your body needs energy to maintain breathing, pumping blood, moving, building muscles, digesting… and other daily physical and mental wellness activities. And the natural source of energy in your body is produced by mitochondria – the energy-producing factories in each cell.
Mitochondria produce energy for the body by metabolizing sugars, proteins, fats, and other chemical compounds with the help of oxygen.
If you consume foods derived from synthetic chemicals, genetic modification, chemical preservatives… and have a lifestyle lacking physical and mental activities. It will cause mitochondria to be damaged because of the excessive presence of the chemicals, free radicals in our body. It is called free radicals. These unstable atoms will cause our bodies to face many issues such as lack of energy, immune system disorders, fatigue, disease and aging.
Therefore, at the sacred moments of the transition from the old year to the new year, you need to load up on antioxidants to strengthen the immune system. Antioxidant compounds come from organic food and drink, or from the positive emotional connection when sharing delicious dishes with a loved one, or simply from a relaxing smile after a herbal steam bath session for yourself.
2. Why do smart consumers choose Drinkizz gift boxes?
Tet is an opportunity to reunite, to add positive energy for good beginnings and to continue writing unfinished goals that have not been achieved in the eventful year of 2021. The afternoon of the 30th and the first days of the year are also the time when we look back to the old year, send our gratitude and small gifts to our family, friends and partners who have helped us get stronger through difficult times.
The gift represents not only to send love, but also a shared message for people to understand the gift giver's lifestyle which is connected with the community and mother nature.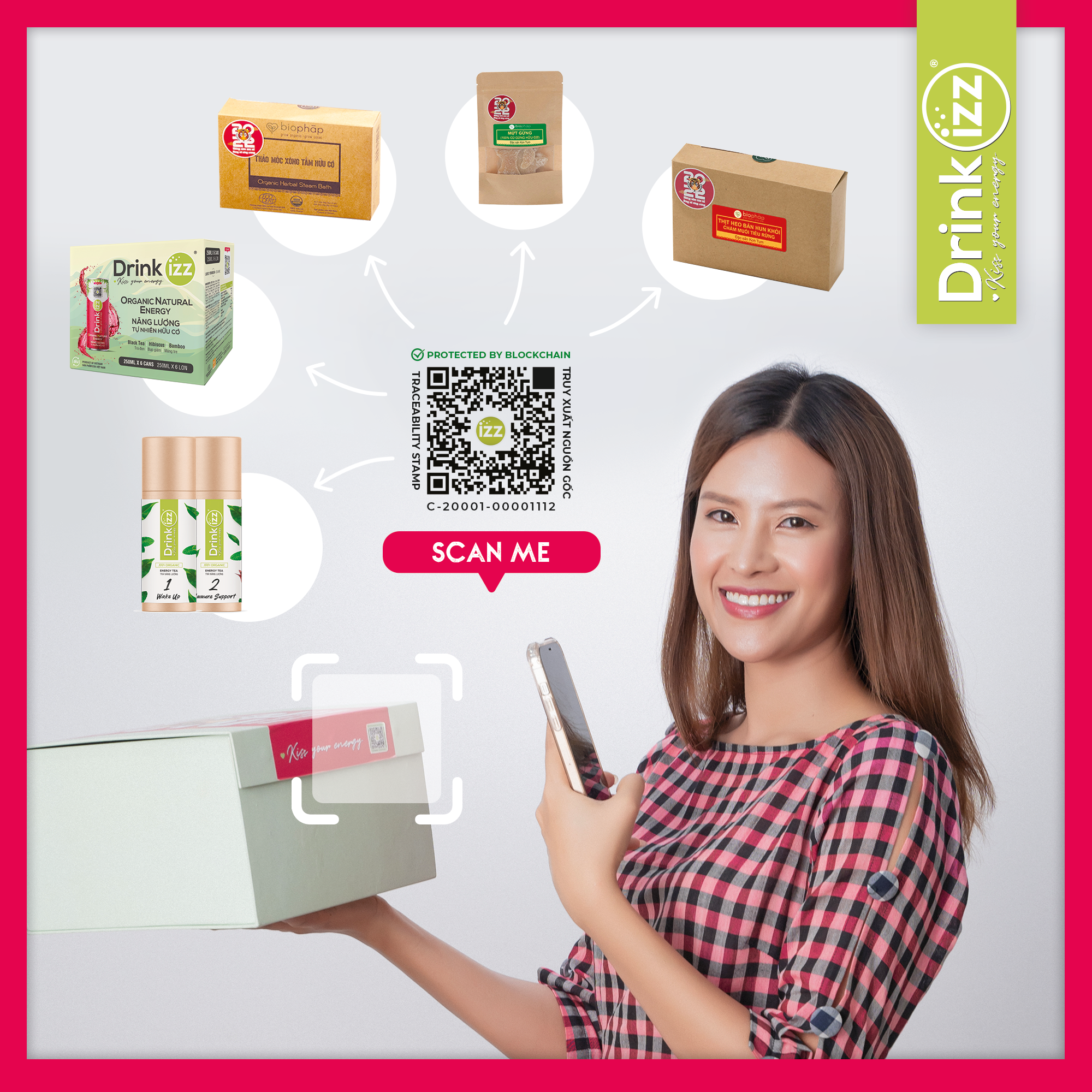 Therefore, the 6-pieces gift box that Drinkizz has chosen helps you bring a meaningful  gift for the following 8 main reasons:
Organic Natural Energy Drink

with antioxidants and minerals to help strengthen the immune system. Delicious herbal flavor instead of toxic soft drinks for the whole family.

Ethnic Smoked Pork with salt-and-wild-pepper

is a specialty from Biophap and Bazana's organic agricultural development project in Kontum. The Ethnic pig has been domesticated by ethnic minorities since ancient times, and uses a natural smoking process without preservatives. In particular, the accompanying salt and wild pepper is hand pounded from natural herbs to give you an unforgettable experience from the bazan red soil of the Central Highlands.

Two tubes of organic energy tea with

two traditional flavors from the delicious Northwest Ban Lien mixed with new fresh flavors from the mountains and forests of the Central Highlands.

Snow Shan

green tea mixed with mint, and Snow Shan black tea mixed with hibiscus flower and mint provide antioxidant compounds to keep you awake from 6 to 8 hours to connect and share New Year's stories.

Organic Ginger confit

is made from 100% organic quality ginger root from Biophap's internationally certified organic farms. We apply a craft cooking process to ensure the

mild spicy and fine sweet taste

of each slice of ginger, and especially retain the antioxidants that help strengthen your immune system.

The organic herbal steam bath

is a meaningful gift according to the traditional Vietnamese custom of steaming the body and house, in the hope of dispelling the bad luck of the old year 2021 and increasing energy in early 2022. Organic herbs contain powerful antioxidant compounds and do not contain harmful synthetic chemicals in farming and processing, helping your

body stay healthy and beautiful inside and out. 

The quality of 6 items in the gift box

certified organic international standards such as USDA of the US Department of Agriculture, or Eu of the European Ministry of Agriculture. In addition, some items from our gift box get the fair for life certification . You can trace the details of the items on the Blockchain platform.

The price of each gift box is 849,000

VND including VAT. This is a choice that is both economical and meaningful, very suitable for gifts for family, friends and yourself. In particular, different generations in a family can use 6 diverse items in the gift box.

The lucky money card is a lucky gift specially created by Drinkizz health experts for the O.N.E community. You and your loved ones could scan Qr Code to connect with Vlog and receive useful information on energy and nutrition, healthy yet tasty recipes for food and drink, and practical physical exercises to help you manage your mental and physical energy effectively in today's busy lifestyle.
3. Premium organic quality gifts – Unique flavor, meaningful gift for yourself, family, friends and partners! 🐯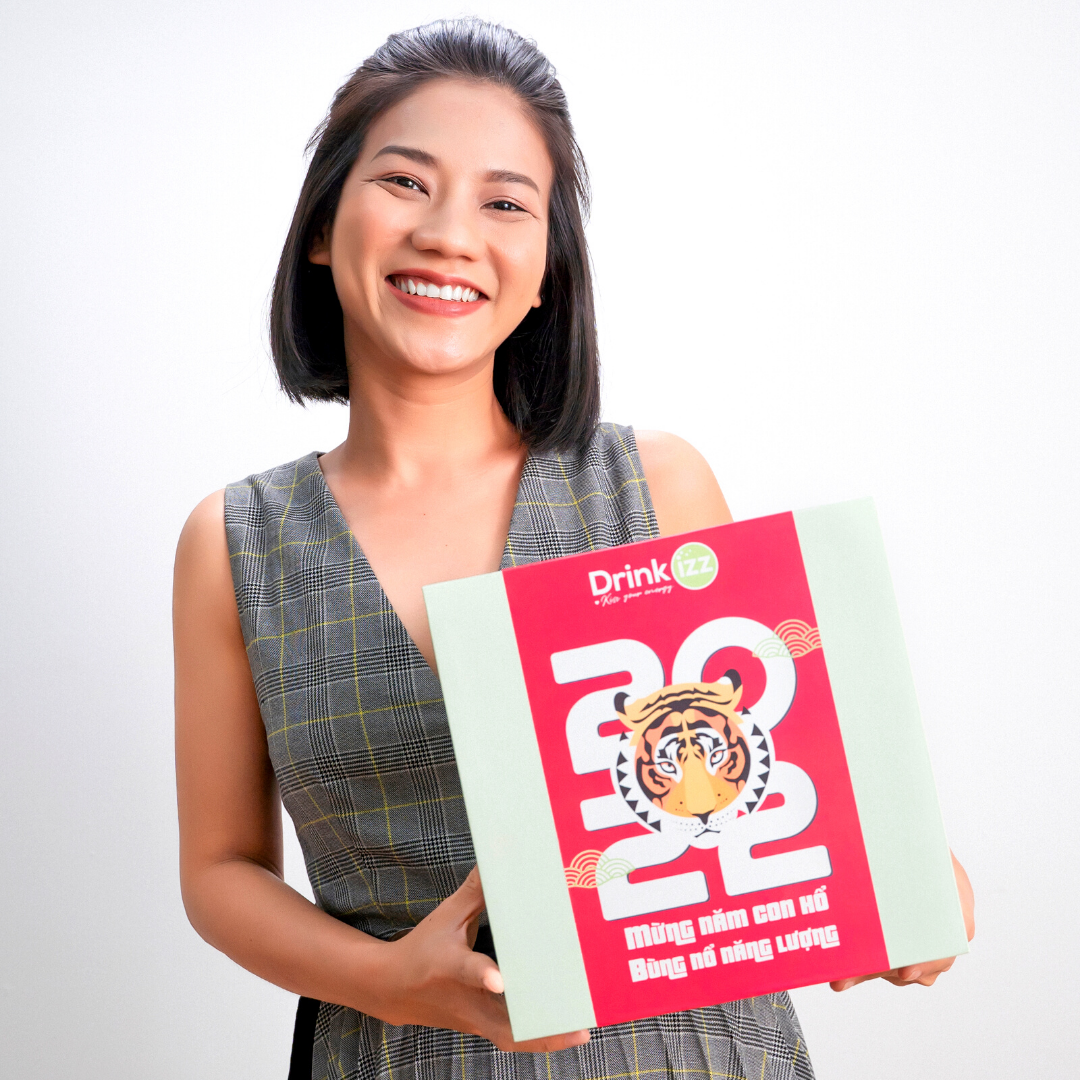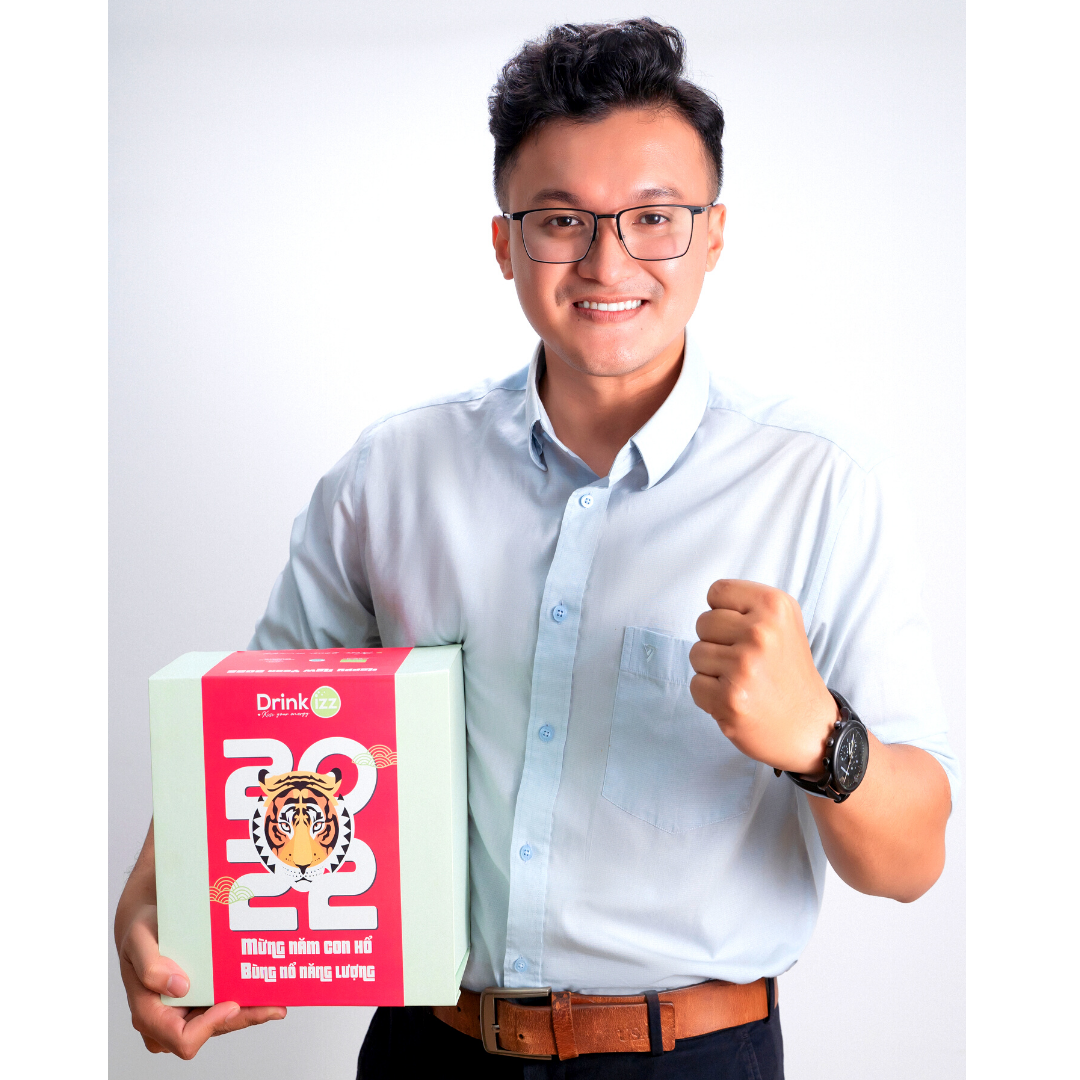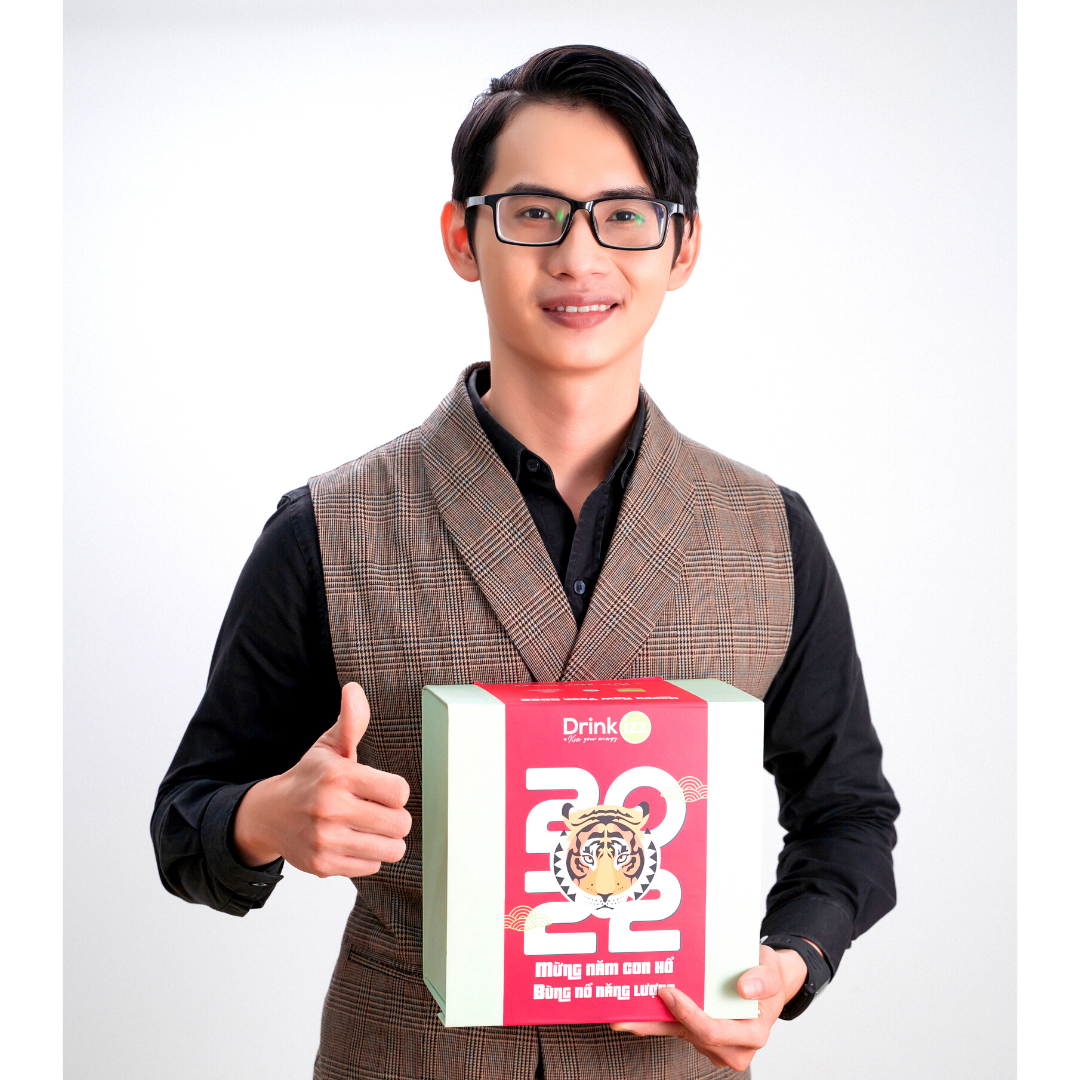 Drinkizz team and our  partners launched this gift box with the belief that after going through the pandemic, the health and positive energy of ourselves, our families, and our loved ones are one of the most precious things that we need to care about and act for every day.
Let's connect with good practical actions to "BOOST ENERGY 2022"!
Order here: https://shop.drinkizz.com/product/boost-energy-2022/
Hotline: 09 83 82 44 77
Qrcode: