After a long vacation April 30th and May 01 st, you still feel inadequate and lack of energy to go back to work? Don't worry, Drinkizz suggests you 3 tips to help you recover quickly for a new productive week ahead and Get compliments from your boss and admiration from your co-workers!
Check it here!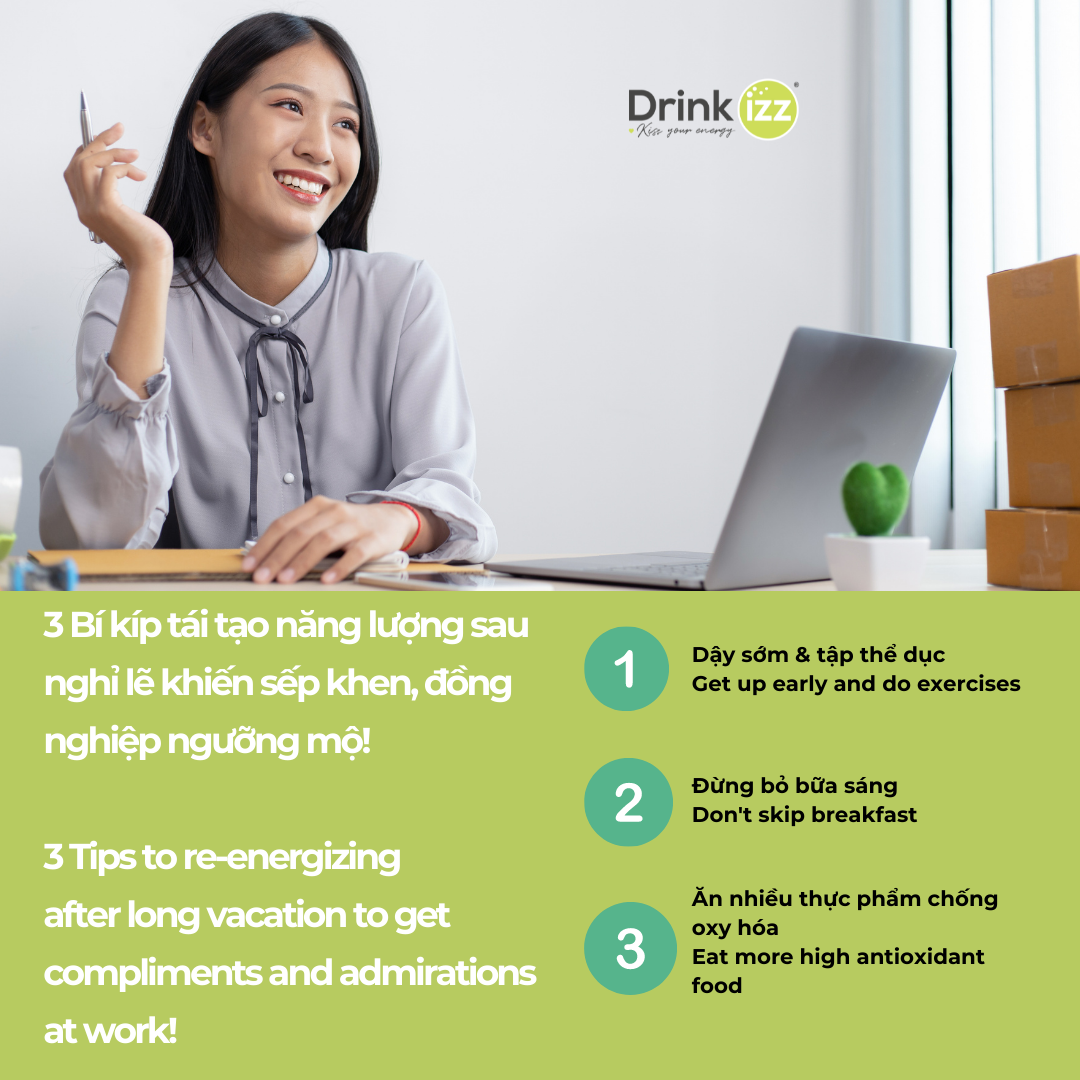 Get up early and do exercises
When getting up early and do exercise, even the simplest and gentlest exercises also help the body produce edorphine hormone, which causes excitement, stimulates mental refreshment, helping us always having energy of relaxation and comfort.
Don't skip breakfast
Not eating breakfast not only makes the body lack of energy, but also causes distraction because of hunger. Trying to have a hearty breakfast that will give you more energy, make you more active and healthy!
Eat more high antioxidant food
Several antioxidants such as astaxanthin, catechin, quercetin, glutathione, and anthocyanin can improve the energy metabolism in the cell to help your better everyday. These food are green tea, black tea, eggplant, black beans…
And don't forget to order  O.N.E can !!! Each O.N.E can 250ml  contains a generous 2200 μmol of antioxidants,  which is 25% of the US FDA's recommended daily intake. So it will help improve your energy metabolism, and bring you durable strength and fresh beauty !
👉 You can order O.N.E drink through:
✔️ Direct message
✔️ Grab
✔️ Shopee
✔️ Hotline: 09 68 31 34 37
✔️ Address : 14 Nguyen Van Thu street, Dakao ward, District 1, Ho Chi Minh City, Vietnam
✔️At store: https://drinkizz.com/store-locator/