Drinkizz is so happy to share with you the message of the International Plant Health Day, it is the protection of green resources that not only stops at reducing chemical waste each year but also daily agricultural cultivation, especially in organic farming. Together with the development of sustainable, green products for health and the environment, Drinkizz has researched and introduced organic beverage products such as ONE drink, tea collection, ONE station… all ingredients from plant sources, which are organic and scientifically cultivated – no harm to natural forests.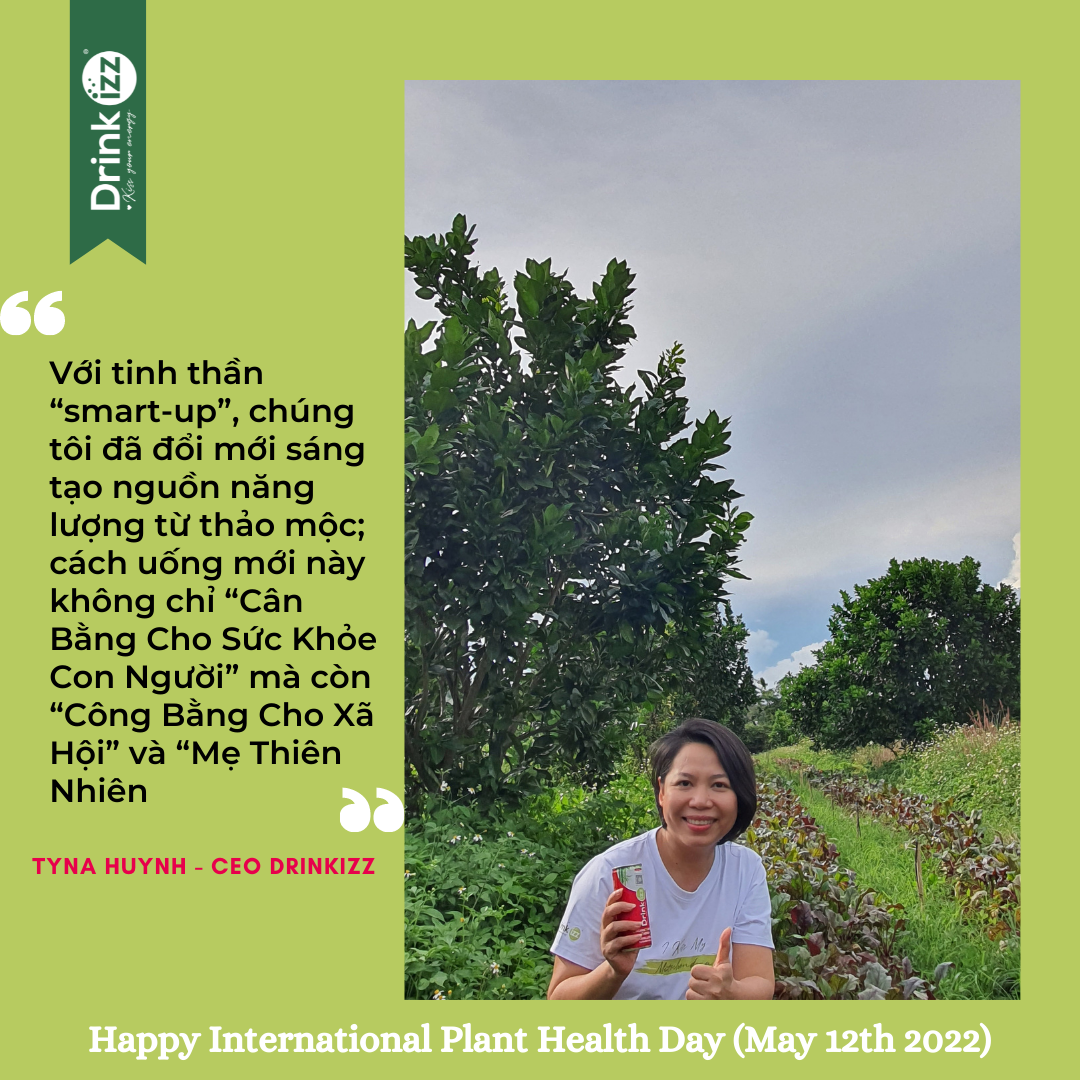 In the digital era, people's lives are busy, they have more and more need to consume plant-based products to have a healthy, gentle body and organic ingredients to avoid risks and toxins that cause cancer for health. healthy, the nutritional indicators in the product are measured in a transparent way. In addition, millennials, Gen Z are consumers who want a connection with transparent, clear plant-based solutions to solve social problems like poverty and ethical violations in the world. value chain, or food fraud and information security.
"With the spirit of "smart-up", we have innovated the energy source from herbs. This new way of drinking is not only "Balanced for Human Health" but also "Social Justice" and "Mother Nature,"- Ms. Tyna Huynh – CEO Drinkizz, shared.
You can understand more about  the connection between ingredients and mother earth at the below link 
✅ https://drinkizz.com/vlog/ingredient/ingredient-a-deep-connection-to-mother-earth/
This is written by our  CEO  Tyna HUYNH  who is an expert in Organic Value Chain & Natural Energy.
Also, don't forget, there is a discount of up to 50% at O.N.E station, remember to come and enjoy!
✅ Up to 50% – From 18/04/2022 to 28/05/2022 🥳🥳
✅ Website:https://shop.drinkizz.com/
✅ Hotline: 09 68 31 34 37
✅ Address: 14 Nguyen Van Thu Street, Dakao ward, District 1, Ho Chi Minh City, Vietnam
✅ You can order "O.N.E Station" on Grab and Shopee Food!