Dear female friends,
March has come, and every year on March 8th, women are always congratulated on the anniversary of being recognized for equality with important rights such as voting or gender equality at work.
And in today's digital era, modern women always want to live with passion, work, dedicate themselves and be good at housework, and rise to not only be healthy but also beautiful. However, there are still barriers, and standards imposed on women that prevent them from pursuing their passions.
Therefore, women need a sustainable natural energy source to have golden health and a healthy body as well as a positive mindset to be able to live their passion! Only then can a woman harmonize her work and family as well as overcome unbalanced times so as not to lose her passion!
And this March, Drinkizz sends the ladies Mocktail Slim Magic as a wish that you always live with passion, and dare to confidently assert yourself. Mocktail Slim Magic will help you improve your energy metabolism to always have a sustainable natural energy source. From there, have golden health to always be able to overcome all barriers and a healthy and beautiful body, love yourself and be more confident in front of everyone around.
1. Mocktail Slim Magic - Slim Magic to keep fit, live your passion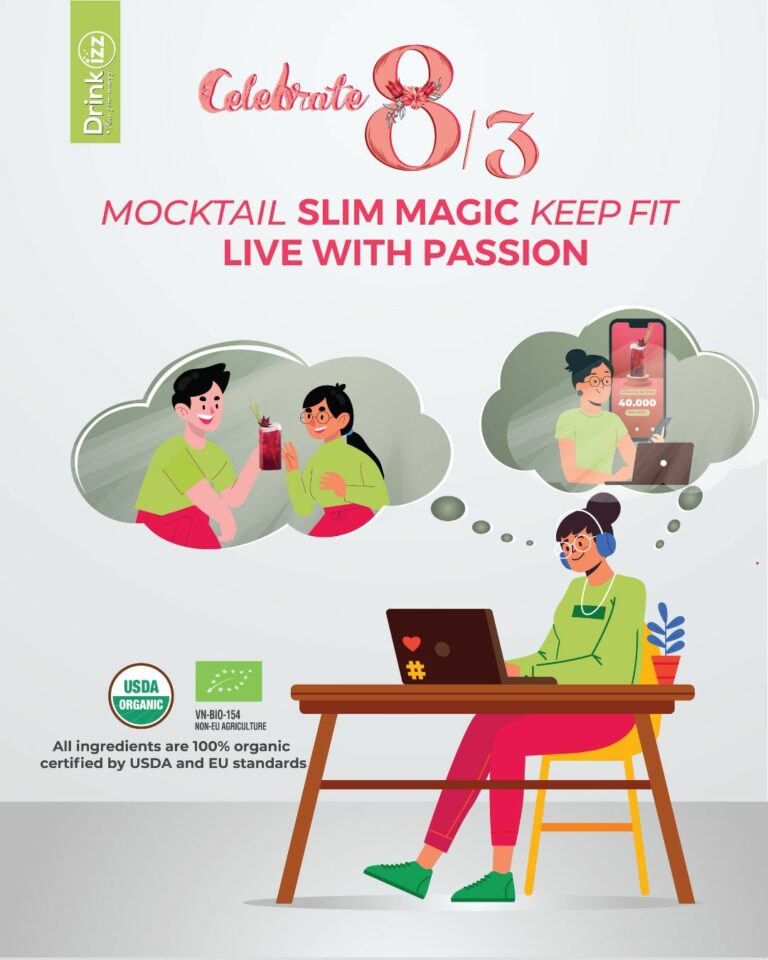 Women have many concerns from society to family, and friends, to themselves, so the body and mind are constantly active and need constant refueling throughout the day. Thus, the origin, quality, and variety of food will play an important role in maintaining a sustainable natural energy metabolism for women. This is the foundation to help women have golden health and a beautiful body so that they can confidently conquer their passions.
When you eat and drink, the food will be digested through the stomach into mitochondrial nutrients – the energy factory of the cell converted into ATP energy that helps your whole body maintain breathing, pumping blood, transport, muscle development, digestion… and other activities every day.
However, if the mitochondria are damaged and weakened, then your body cannot have the energy metabolism to function daily. This can happen when foods are derived from synthetic chemicals, genetic modification, preservatives, etc., leading to the production of free radicals in the body. In addition, stress comes from many other sources such as environmental pollution; sound pollution, cultural pollution coming from work, or maybe in their personal relationships makes them tired, and have no time to take care of themselves or follow their passion.
Therefore, ensuring to provide the body with a daily amount of antioxidants is a prerequisite for a sustainable natural energy metabolism. From there you can have enough natural energy to manage work-life harmony, as well as have time to live with passion in a sustainable way.
And 1 cup of mocktail Slim Magic will be a great gift for women this 8.3. This mocktail has the typical symbol of the hibiscus flower (also known as the hibiscus flower, red artichoke), a red flower symbolizing intense passion, deep friendship, and romantic love, very close to Modern women's style. Besides the red color and aroma that help increase energy, hibiscus flowers are also rich in antioxidants, helping a woman's energy to be built better every day. This is the right gift to help slim women keep their figure, and keep the passion burning from both hibiscus herbal tea, lemongrass herbal tea and O.N.E drink will be a special gift for the woman next to you.
2. Ingredients for 1 glass of Mocktail Slim Magic
Ingredients for 1 glass of 330ml Mocktail Slim Magic include: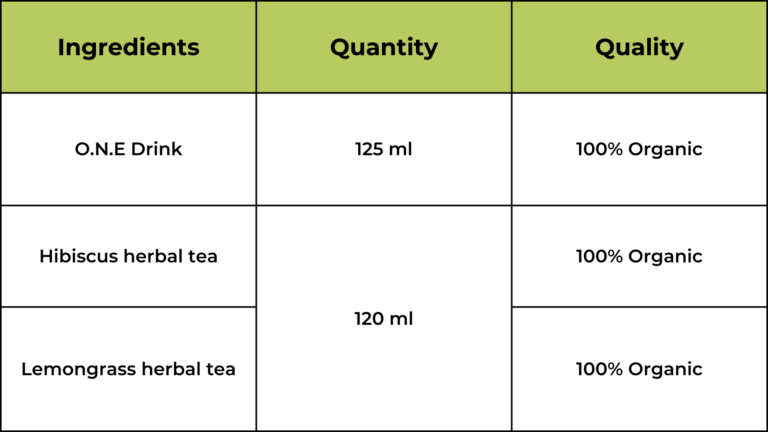 Made from 100% USDA and EU certified organic ingredients, Mocktail Slim Magic will protect your health and build a sustainable natural energy source with the following uses:
– O.N.E drink – provides daily natural energy from organic herbal ingredients, with abundant antioxidants, helps nourish healthy mitochondria, thereby preventing fatigue and lack of energy quality, aging, and disease!
– Organic Hibiscus – Organic Hibiscus flowers contain large amounts of anthocyanins with antioxidant effects. Hibiscus is used as a useful nature remedy including improving liver health, detoxifying the liver, and supporting the treatment of liver problems such as hepatitis, and cirrhosis. In addition, hibiscus also helps fight obesity and diabetes by inhibiting the oxidative breakdown of fats.
– Organic Lemongrass – Has antioxidant, anti-inflammatory, antibacterial, anti-obesity, pain-relieving, anxiety-reducing, and anti-hypertensive effects
The above ingredients contain abundant antioxidants, which help nourish healthy mitochondria, thereby preventing fatigue, and the lack of energy, aging, and other diseases. Therefore, a mocktail slim magic will be a perfect choice, replacing chemical milk teas that overload the liver, acne skin, and obesity to protect your sustainable natural energy source!
3. The natural cooking process of Mocktail Slim Magic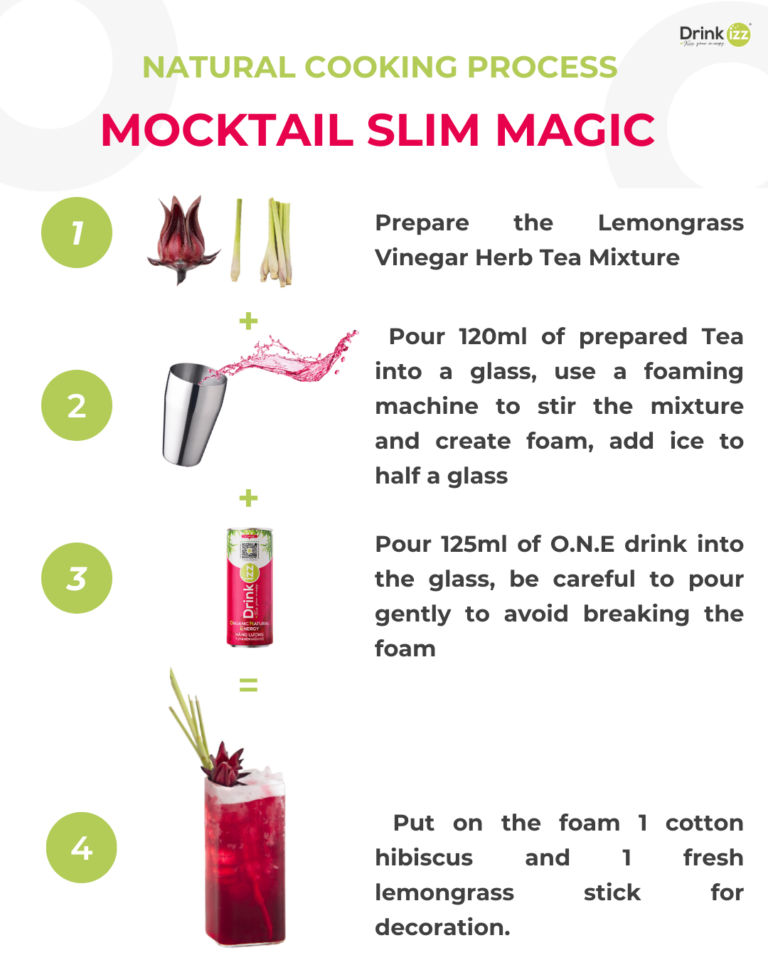 Prepare a glass of Mocktail Slim Magic with a fresh herbal flavor to create a feeling of refreshment and reduce stress, you need to follow these steps:
Step 1: Prepare the Lemongrass Vinegar Herb Tea Mixture
– Add organic hibiscus and cook with boiling water for about 1 minute
– Slowly add the organic sugar in batches and stir until the sugar dissolves
– When the sugar is dissolved, put the dried lemongrass into the pot. You can replace it with fresh lemongrass
– Reduce heat to low, cover, and cook for 15 minutes
– After 15 minutes, pour the solution into the container, the rest of the body, and leave the hibiscus flowers and lemongrass for decoration
Step 2: Pour 120ml of Lemongrass Herbal Tea prepared from step 1 into a glass, use a foaming machine to stir the mixture and create foam, add ice to half a glass
Step 3: Pour 125ml of O.N.E drink into the glass, be careful to pour gently to avoid breaking the foam
Step 4: Put on the foam 1 cotton hibiscus left from step 1, you can cut 1 fresh lemongrass stick just long enough for decoration.
As you can see, the process of making a Mocktail Slim Magic is simple and completely natural without adding any preservatives! This is also just knowing how to keep the Mocktail always fresh and help you regenerate natural energy, relieve stress, and continue to live your passion.
4. Nutritional benefits of a glass of Mocktail Slim Magic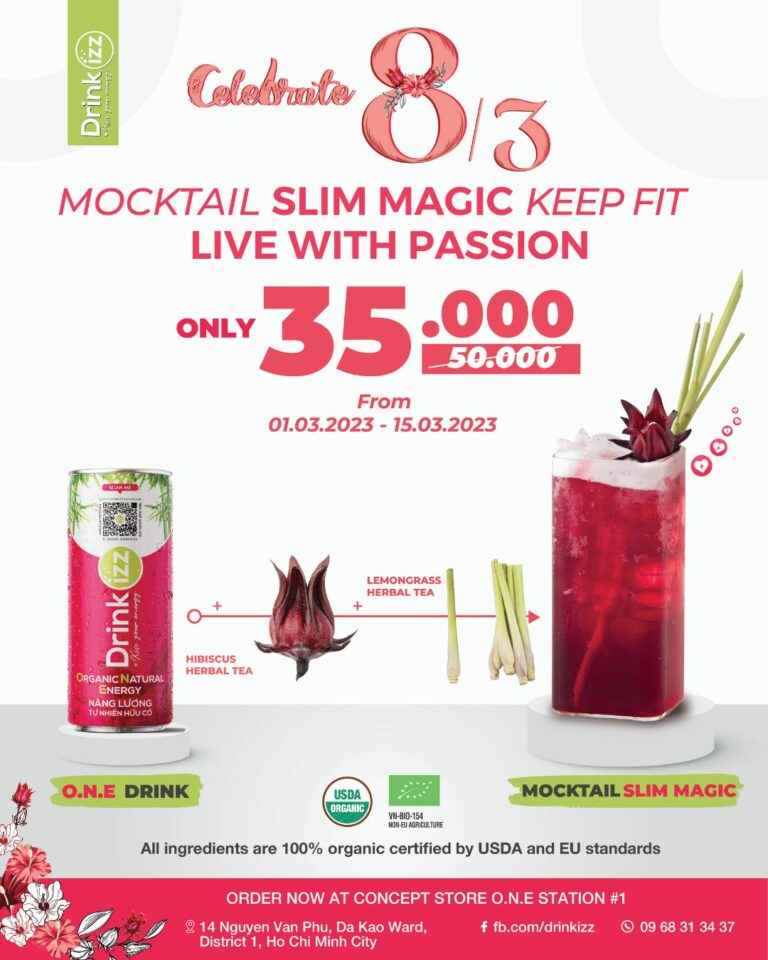 Do you know? 1 glass of mocktail Slim Magic can help you keep fit and live your passion because it contains:
– 125ml O.N.E Drink from Drinkizz contains:
+ 12.5 mg Theine, equivalent to 6.2% of the maximum daily recommended intake of 200mg (according to a 2000 kcal diet) by nutritionist Drinkizz helps to relax and wake up.
+ 625 μmol is an abundant amount of antioxidants or 6.7% of the FDA's recommended daily intake. Antioxidants help balance free radicals – the cause of disease and aging and improve the body's energy metabolism thanks to antioxidants.
+ 8.4 mg of silica, which is 24% of the recommended daily intake. Silica helps with collagen production, which boosts the body's metabolism and energy levels.
Supplement many other important minerals from O.N.E such as calcium, iron, potassium, and magnesium…
– 120ml Lemongrass hibiscus herbal tea contains:
+ Hibiscus: contains many healthy ingredients such as vitamin A, vitamin C, unsaturated fatty acids, citric acid, tartaric acid, malic acid, hibiscus, delphinidin, cyanidin, polysaccharides, etc. Hibiscus flowers have a sour, slightly acrid taste, suitable for making hot drinks such as hibiscus tea or cooked into a syrup of hibiscus flowers to help treat colds and flu.
+ Lemongrass: has a lot of vitamins A, C, and organic acids that help promote metabolism, so that excess fat is broken down and quickly eliminated from the body, helping you lose weight effectively. (*)
This March 8 is an opportunity for you to show your understanding and support to women with concrete actions! So Drinkizz believes that, whether giving it to the woman you love or rewarding yourself, the Mocktail Slim Magic will be an extremely meaningful energizing gift!
So, please contact Concept Store O.N.E station #1 to reward yourself with a Mocktail Slim Magic for golden health and an instant sustainable energy source to honor women and confidently conquer all of our passions. Or give the women around you a mocktail Slim Magic as a way to accompany and support them to pursue your passion!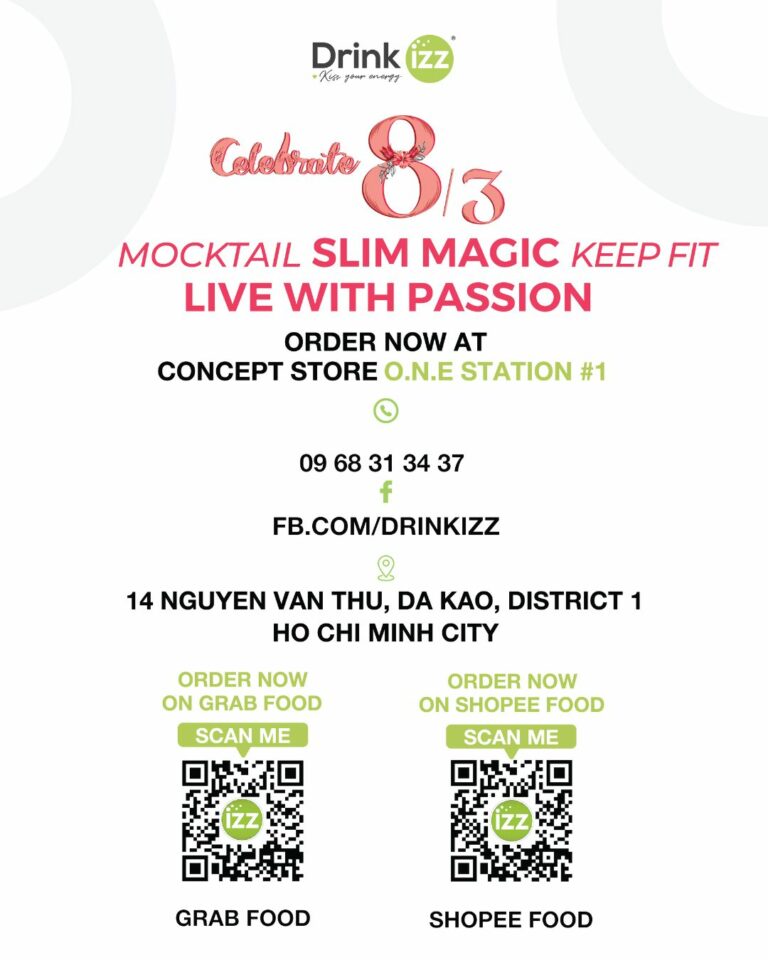 Concept Store O.N.E station #1
Charging station with natural energy from 100% USDA and EU certified organic products
Helping you practice the Health & Wellness lifestyle to pursue success before the age of 30.
🏬 Address of O.N.E Station #1: 14 Nguyen Van Thu Street, Da Kao Ward, District 1, Ho Chi Minh City
📌 Concept Store O.N.E station #1 is open Monday through Friday!
  ☎ Contact to Order O.N.E Station #1 (10:00 – 17:30) : + 84 9 68 31 34 37
  📍 You can also order "O.N.E Station" on: Grab and Shopee Food!
  👉Shopee Food: https://bit.ly/3XjQqIM
  👉Grab Food: https://bit.ly/3DWxpFz