So hot in Saigon recently! Why don't you try our Green Detox to erase the annoying of the hot weather? Find out with this fresh and cool drink – Green Detox. This drink not only remove the thirsty immediately with a fresh taste from natural organic ingredients, but also helps to reduce the overload on the liver because of your deadline pressure, work or accidentally eating "excessive". Come have a cool drink with us!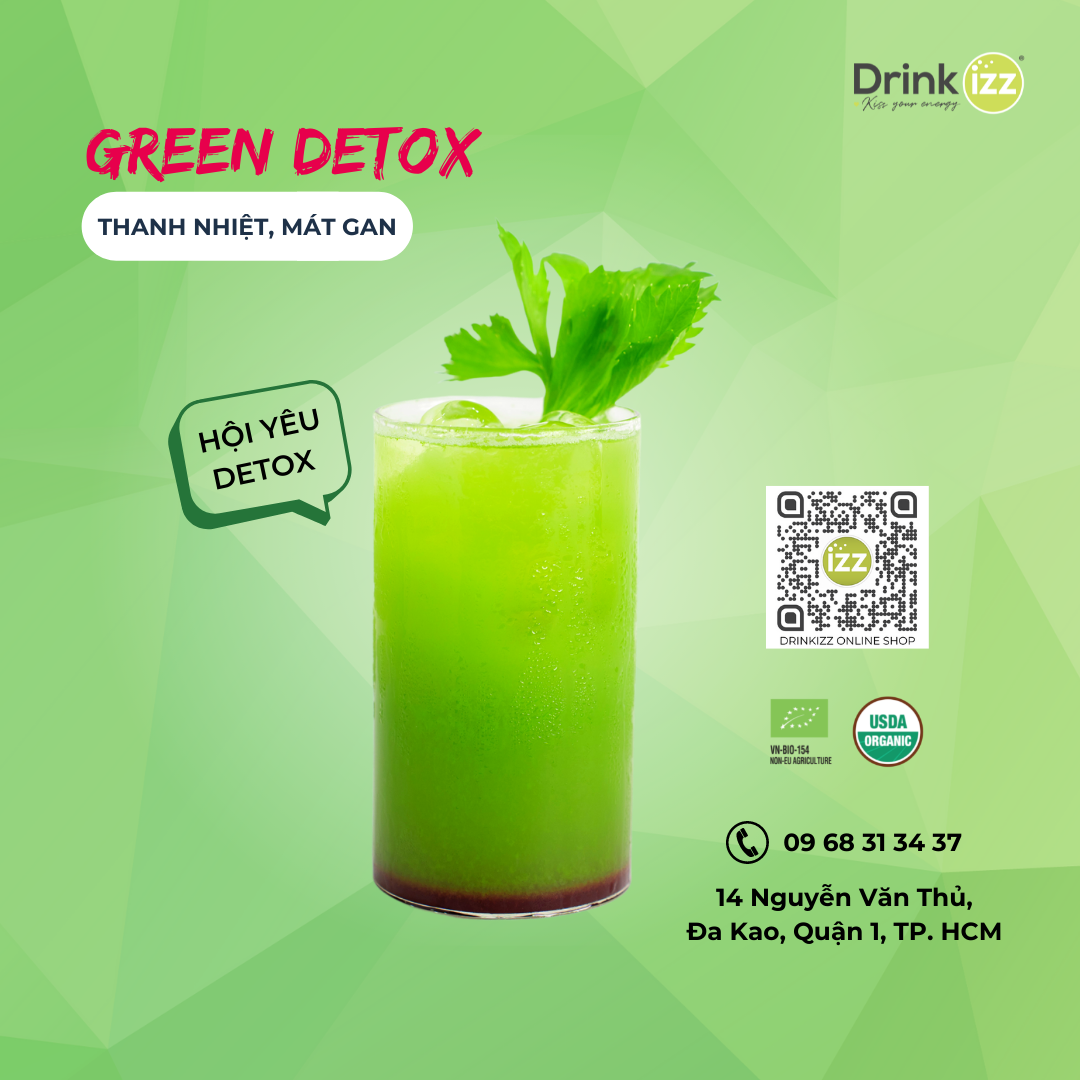 Let us introduce you our new drink – Green Detox! Its ingredients include celery, pineapple, lemon and O.N.E syrup. We know some people be unable to drink celery juice, hence we has mixed aromatic, lemon and O.N.E syrup to balance the taste of celery. The sweet taste of pineapple, the slight sourness of lemon and the characteristic herbal aroma of O.N.E syrup have made Green Detox more delicious and easy to drink.
Beside the tasty, Green Detox can help:
Celery is packed with nutrients, including vitamin A,C,K,  beta carotene, and flavonoids that help protect the liver and other internal organs from oxidative damage and free radical damage. Besides, celery contains 95% water and 5% fiber which has a lot of vitamins and minerals such as potassium, folate.. It is not only good for the liver but also very good for the digestive system, helping to nourish the body. and rebuild red blood cells, purify the blood, good for the brain.
Syrup O.N.E is

made from  organic  ingredients such as hibiscus flower and 9 other herbs  which does not cause obesity, diabetes or burden on the liver. 
Pineapple and Lemon contain a lot of vitamin C, help you recover health, boost immunity and protect brain.
Every day, the liver performs more than 500 tasks to maintain health. Although the liver has the ability to regenerate, the body needs health to do so. Therefore, to maintain health, you need to purify and detoxify your liver through nutrition, especially using fruit and vegetable juices. If you do not have time to prepare juice, call O.N.E Station right away!
Green Detox has an organic rate of 58.73% because some organic ingredients have not been certified USDA and EU organic according to Drinkizz standards.
☎️ Order at O.N.E station now! Up to 50% off sale!!!
Up to 50% – From

18/04/2022 to 28/05/2022

🥳🥳

Website:https://shop.drinkizz.com/

Hotline: 09 68 31 34 37

Address : 14 Nguyen Van Thu street, Dakao ward, District 1, Ho Chi Minh City, Vietnam

You can order "O.N.E Station" on: Grab and Shopee Food!