Hoi An is an antiquated Vietnamese town positioned in the coastal plain of Quang Nam province, which is downstream of the confluence of the Thu Bon River. Hoi An cuisine not only draws visitors because of its ancient and poetic beauty, but it also touches people soul by the typical flavor of the Middle of Vietnam. Nam's unique creative ideas came while sitting in Hoi An's ancient town, listening to bai choi and enjoying a cup of Mot tea. Hoi An Kizz is a one-of-a-kind concert that will allow you to unwind and enjoy the familiar, nostalgic, and poetic flavors! Nothing beats a glass of Hoi An Kizz after a long week at work, so let's get started!
1. Hoian Kizz – Gentle energy with traditional flavor of ancient town
Hoian Kizz's famous specialty is Mot tea made up of traditional ingredients such as lotus tea, lemongrass, ginger, lemon, and other traditional spices such as anise, cinnamon,… This plays as a drink and remedy for stress reliever!
Hoian Kizz has a wonderfully distinctive long flavor chain due to the combination of Mot tea, gin and fresh herbs of O.N.E drink.
Not only is O.N.E drink delicious, refreshing, and healthy, but it will also provide you with instant energy, making up for lost energy after a stressful and tiring work week.
Mot tea also relieves colds, warms the stomach, supports digestion, and induces sedation. Gin contains wonderful herbs that will help you relax after a long day of work.
2. Ingredient, preparation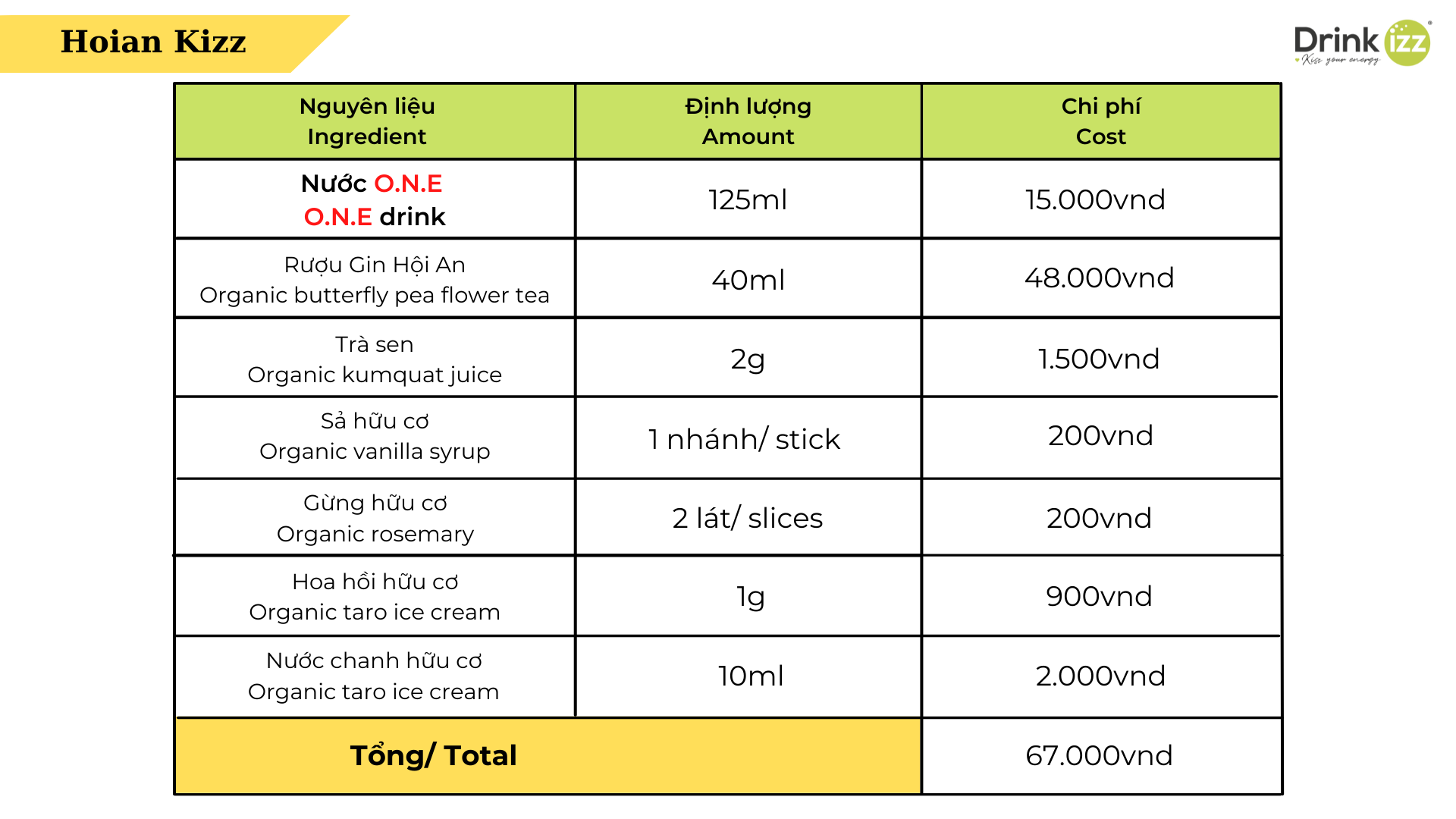 Preparation: 
First, we make Mot

tea.

Put 6g lotus tea (3 tea bags) in the tea pot. 

Next, chop and smash 3 lemongrass sticks, 6 slices of fresh gingers into the tea pot. 

The final ingredient of Mot tea is 3g star anise.

After putting every ingredients into the tea pot, we'll pour 300ml of hot water in and brew the tea in 3-5 minutes. 

And now let's make the cocktail. 

I will pour 80ml of cooled Mot tea into a cup

And then there's the 40 ml Hoi An Gin. (You can also use other types of Gin)

And 10ml of yellow lemon.

Fill ice into the glass and gently add 125ml of O.N.E drink.

For decoration, I used lemongrass sticks,

lotus flowers and lotus seeds placed on top of the glass.
So We have finished one glass of delicious Hoian Kizz!
3. Nutritional benefits
Each glass of Hoian Kizz has:
Each "Hoian Kizz" has 125ml O.N.E containing:
12.5mg Theine, equivalent to 6.5% of the maximum daily recommended intake of 200mg (according to a 2000 kcal diet) by nutritionist Drinkizz. Theine helps to relax, wake up and focus from 6 to 8 hours. (

Read more

)

625 μmol of abundant antioxidants, equivalent to 7% of the FDA's recommended daily intake. Antioxidants help balance free radicals – the cause of disease and aging, and improve the body's energy metabolism thanks to anti-oxidants. (

Read more

)

8.75 mg of silica, which is 12% of the recommended daily intake. Silica helps in collagen production, which boosts the body's metabolism and energy levels. (

Read more

)

O.N.E can supplement many other essential minerals such as calcium, iron, potassium, magnesium, etc.
Hoi An is not glamorous or marvellous; rather, its allure stems from its idyllic and plain beauty. Under the moss-covered tile roofs, the old moldy gray walls, and the road lined with red lanterns, life is peaceful. It is the classic colors and nostalgic atmosphere that have sown so many lingering concerns in people's hearts about an old but not old land. Nam hopes that with Hoian Kizz, everyone will experience the wonderful beauty of Hoi An town and have moments of complete relaxation and peace.
Why should you mix our O.N.E drinks with alcohol? Let's find out: 
     1. Taste: 
ONE drink is naturally cooked from 10 essential herbs from the mountains and forests of Vietnam, so it has a special sour, spicy, salty, sweet, and fragrant taste. So can mix many types of cocktails, mocktails with attractive flavors.
     2. Color:
O.N.E drink has a natural red color from anthocyanin compounds from hibiscus flowers, so when mixed with alcohol, it will produce a glass of water with many layers, naturally beautiful. Good for health again.
    3. Anti-cirrhosis, kidney failure, and no headache when drunk:
ONE drink provides natural nutrients such as glucose, minerals, and oxidizing compounds that can be measured by scanning QRcode. Helps you to improve nutritional disorders when drinking alcohol because alcohol depletes nutrition by inhibiting nutrient breakdown, poor absorption of nutrients, and changes in the transport or excretion of nutrients.
Each 250ml can of O.N.E contains 2200 μmol of antioxidants, equivalent to 25% of the US FDA's recommended daily intake. So it will help improve cirrhosis of the liver and kidney failure caused by alcohol. Because when you drink alcohol, alcohol breaks down in the liver and kidneys, increasing free radicals in the liver and kidneys, causing aging, and cancer.
ONE drink is cooked with 10 herbs including mint, ginger, lemongrass, lemon, pepper, and star anise .. are medicinal herbs that Vietnamese people specialize in to recover after being drunk and without headaches.
Links for ingredients purchasing:
O.N.E drink:
Hoi An Spice Road Gin:
https://sanhruou.com/ruou-gin-lady-trieu-hoi-an-spice-road-gin.html
The other ingredients: