Very  hot day and too busy with deadlines  but you need to recharge energy which bring you durable energy and fresh beauty ? Only perfect solution come from organic ingredients, natural nutrition and refreshing flavor !!!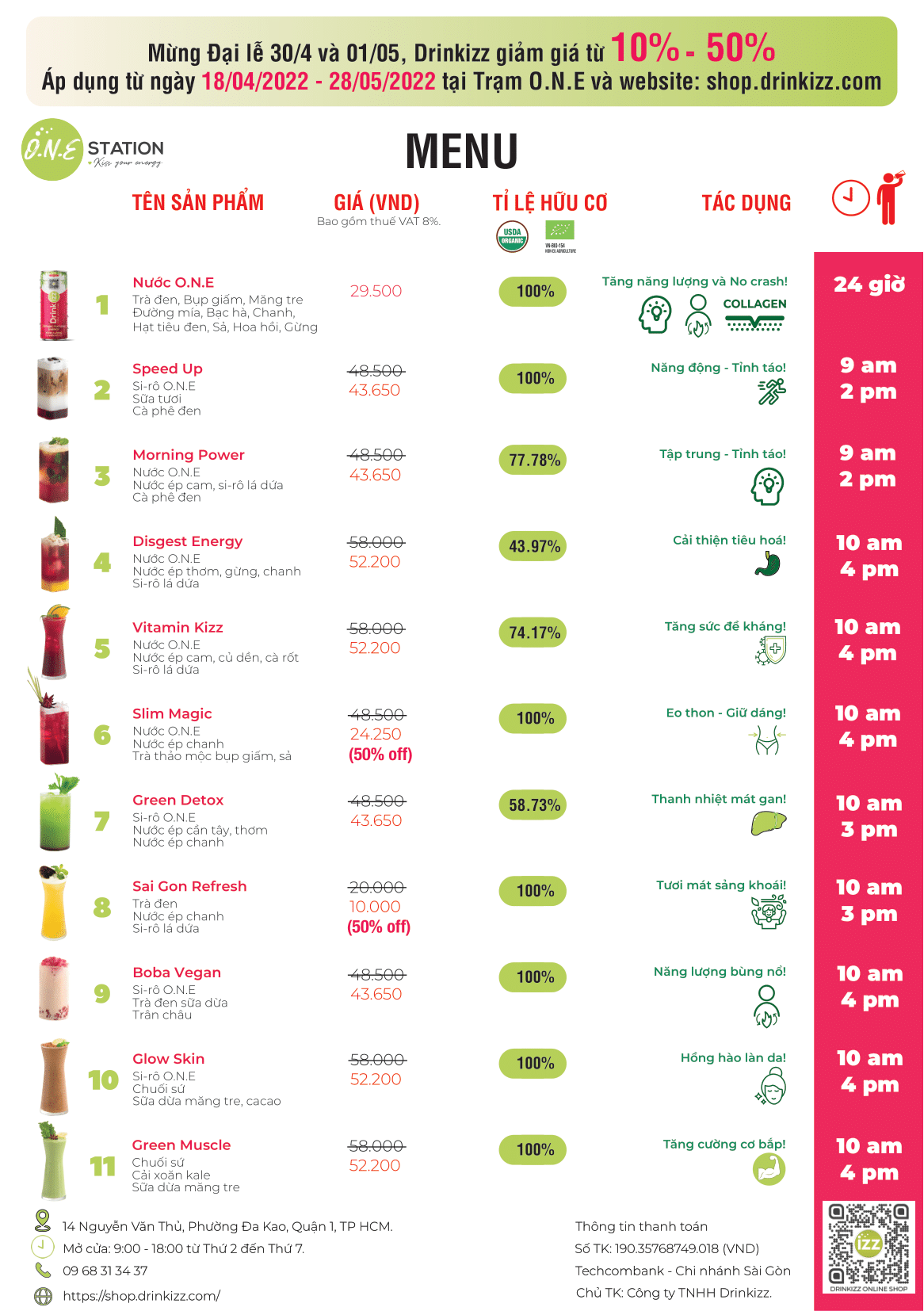 Our original menu helps you stay awake and maintain energy all day with the following standards:
✅ "Clean" energy, "no harmful chemicals" to maintain health and look young!
✅ Organic ingredients according to USDA, EU standards and natural processing provide a rich source of antioxidants!
✅ Origital menu to provide a change of taste every day, don't be afraid to get bored 😋 Familiar drinks such as coffee, tea, juice, smoothie, milk tea… have been revisited by O.N.E Station for more tasty and flavorful
✅ The nutrition of each drink is calculated with daily value needed according to FDA standards, giving you an instant and lasting energy!
☎️
Order at O.N.E station now! Up to 50% off sale!!!
✅ Up to 50% – From
18/04/2022 to 28/05/2022
🥳🥳
✅ Website:
https://shop.drinkizz.com/
✅ Hotline: 09 68 31 34 37
✅ Address : 14 Nguyen Van Thu street, Dakao ward, District 1, Ho Chi Minh City, Vietnam
✅ You can order "O.N.E Station" on: Grab and Shopee Food!
#onedayonedrinkizz #onestation #nước_ép #juice #smoothie #cà_phê #coffee #trà_sữa #trà #tea #detox #healthylifestyle #năng_lượng #energy #tăng_năng_lượng #hữu_cơ #organic #drinkizz