As a smart consumer in the digital age, have you heard of the fair and ethical consumption movement? And are there really many businesses that adhere to fairness and ethics in their business practices to make the whole supply chain sustainable? So what are the solutions for such critical social issues like environmental pollution, hunger, lack of safe food for health, psychological violence or even the terrible Covid epidemic?
Not standing apart from those social challenges, I and the Drinkizz team, we are joining hands to solve consumer energy problems with the spirit of sharing and social justice. This is not only solved in an individual unit, but we are committed to certifying the fair for life for the entire supply chain, and especially the workers and farmers who are producing each product you consume to cover their daily living. If you are also interested in the sustainable development of the community, let's find out with me!
1. What is the Fair for Life certification?
Fair for Life is an agricultural, manufacturing, and commercial fair certification program. Fair for Life was developed in 2006 by the Swiss Bio-Foundation in collaboration with the IMO Group, and was later acquired by the Ecocert Group in 2014 to satisfy the demands of organic agriculture stakeholders.
The Fair for Life Certification is an appliance to assess and protect each unit of the supply chain where related parties have committed to practice responsibly in terms of economic, social, and environmental aspects.
Fair for Life certified manufacturers, processors, and brand owners will be guaranteed sales and supplies. They establish genuine relationships between partners by utilizing appliances such as long-term contracts that include price, fixed bulk,.. and other commitments.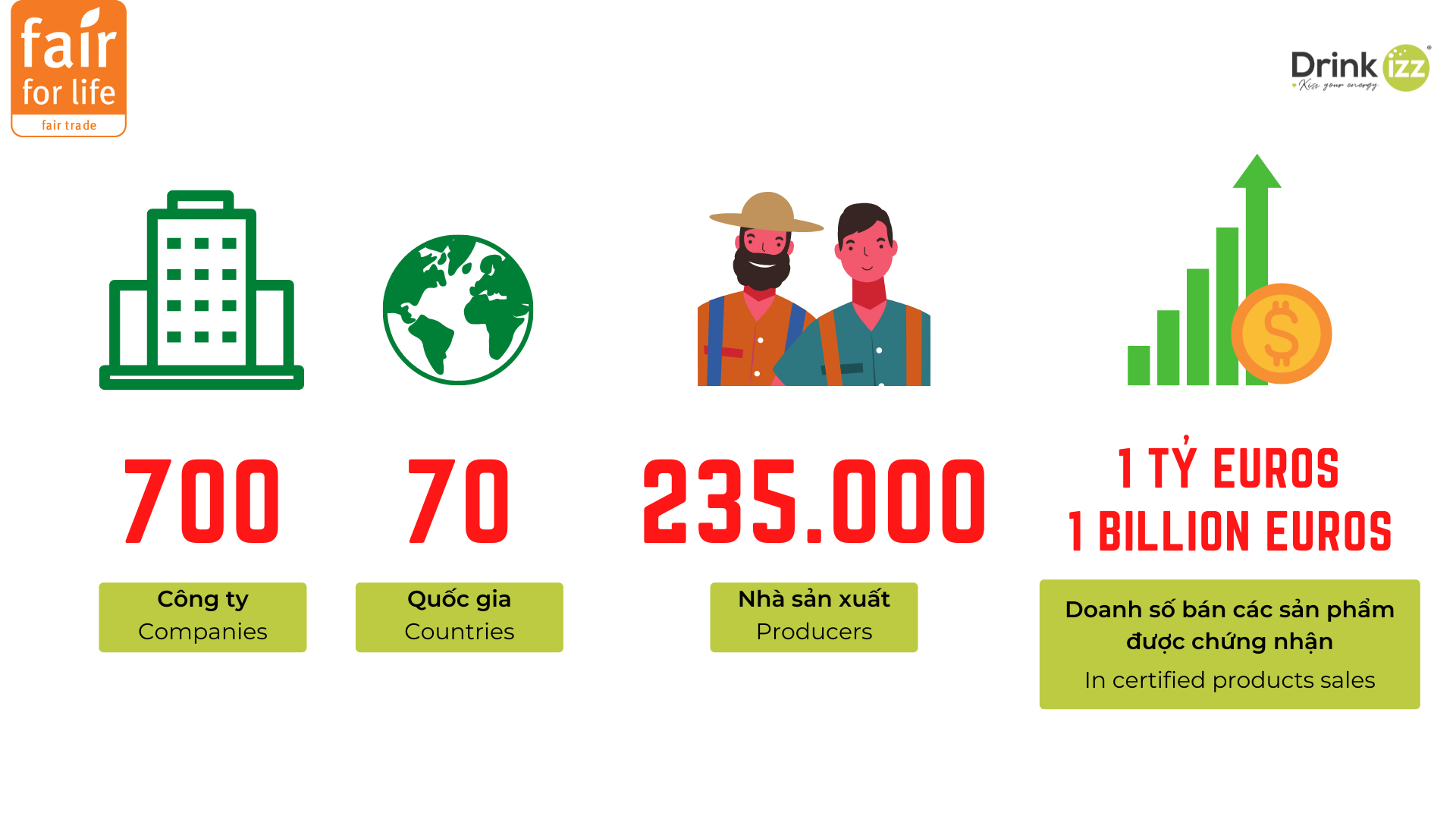 Fair for Life now has gathered a community of over 700 certified companies and organizations from over 70 nations. Their devotion to Fair for Life has a major bearing on 235,000 manufacturers and workers, resulting in nearly 1 billion Euro in certified product sales.
2. Customers' choice of ethical products is key
According to market research, 86% of millennials are looking for products that are clearly sourced, fair and ethical. Every smart consumer understands their influence on brands, that's why there is a saying that the customer is " king".  So a wonderful thing would happen if the "kings" all chose ethical and fair consumerism, which means that more demand from customers will increase the supply of equitable products. and ethics from companies. 
Thus, customers not only receive an increase in real values ​​in the short term, but also create a premise for the increase of value in the supply chain in the long term. For example, a product with real value will have a reasonable price.
For example, every day you want to cleanse your body with a cup of hibiscus tea, then choosing products with a certificate of fairness for life will help:
Hibiscus flowers are purchased from farmers at a price higher than the market price.

Farmers and workers producing flowers will be protected in the event of a crisis with a minimum guaranteed price calculated on a cost-of-production basis.

The hibiscus flowers that you drink will always achieve flavor and nutrition because the working conditions of farmers and workers are always of a good, safe standard no matter what country they are grown in.

This season next year, the hibiscus flower you drink is better than the previous year because farmers and workers have increased production autonomy and give better quality of flowers.

Hibiscus tea is only good for your health because farmers and workers will be encouraged and promoted organic farming practices, environmentally friendly packaging.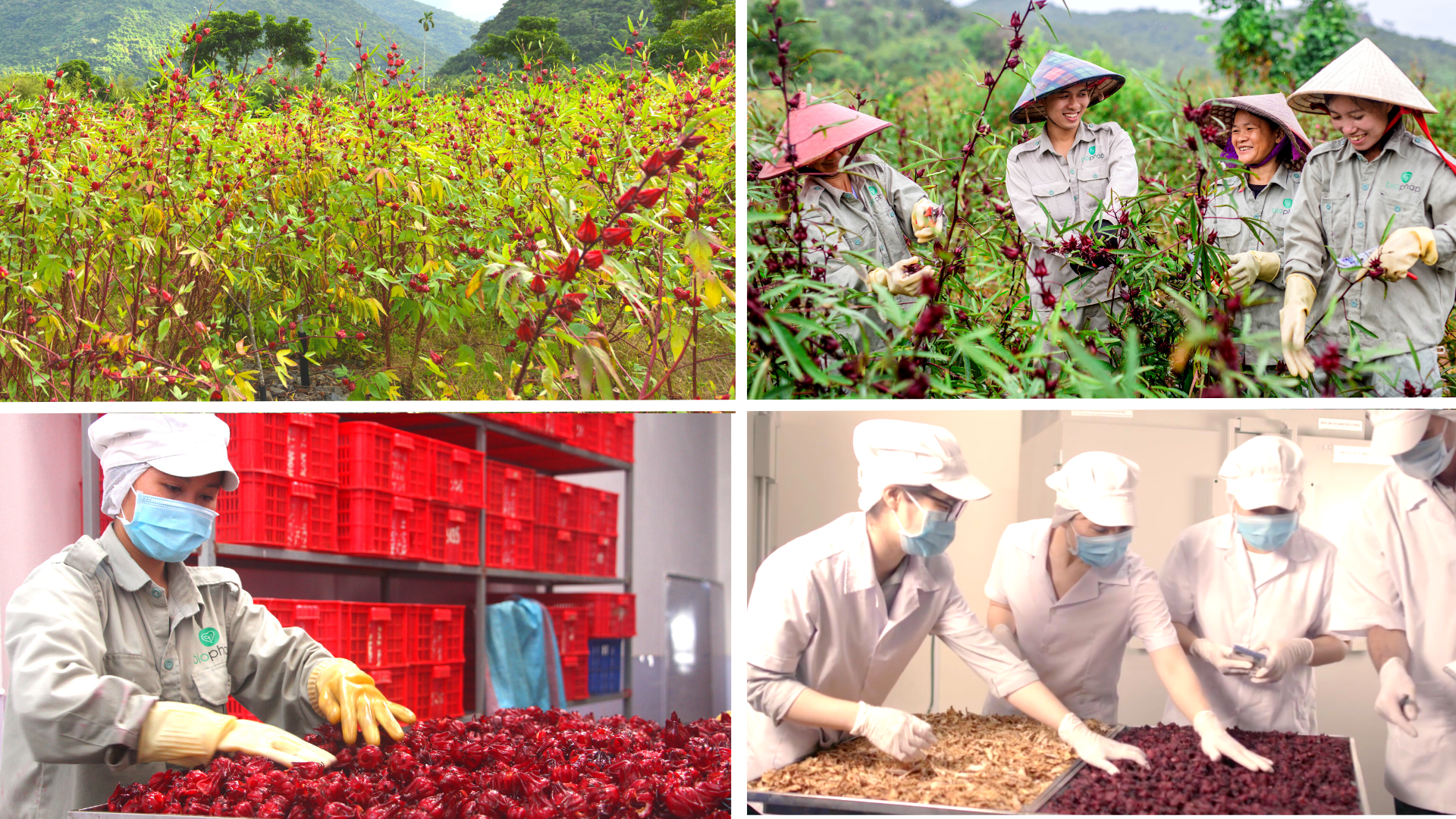 Organic hibiscus farm and planting, harvesting and drying process at Biophap – Drinkizz's ingredients partner.
Thus, you see that the products have fair value, will ensure to support conditions for workers and farmers to be happy and comfortable working. From there, it will ensure food safety, improve livelihoods and reduce social problems, and moreover, education and environmental protection will help reduce environmental pollution.
3. Why does Drinkizz choose Fair for Life cerfiticate?
Do you know:
The European Climate Law was published in the Official Journal on 9 July 2021 and entered into force on 29 July 2021, setting a legally compelling target of zero greenhouse gas emissions by 2050.

Aim to accelerate the ecological transformation of society and the economy., France has adopted and applied the "Climate and Resilience" law, August 22, 2021 on combating climate change and building resilience in the face of its effects, in order to reduce 40% of greenhouse gas emissions by 2030 in the spirit of social justice, issued on 24/8.

Articles 257 and 275 formally recognize the role of fair trade in promoting the ecological and social transition of our agriculture and food in order to strengthen its guarantees to consumers against "

Greenwashing

".
Thus, the world has understood that fighting global climate change is completely in the hands of people if the fairness of workers in least developed countries is connected with ethical customers in developed countries. This connection will reduce labor exploitation, resource drain, brain drain, etc. in least developed countries.
Drinkizz along with that development momentum, our vision is simple and strong, to be a caring company for Positive Energy of our customers, our employees and actors in the organic digital value chain, in particular the farmers who work hard for organic agriculture. We act locally and think globally to help this world be more fair and sustainable.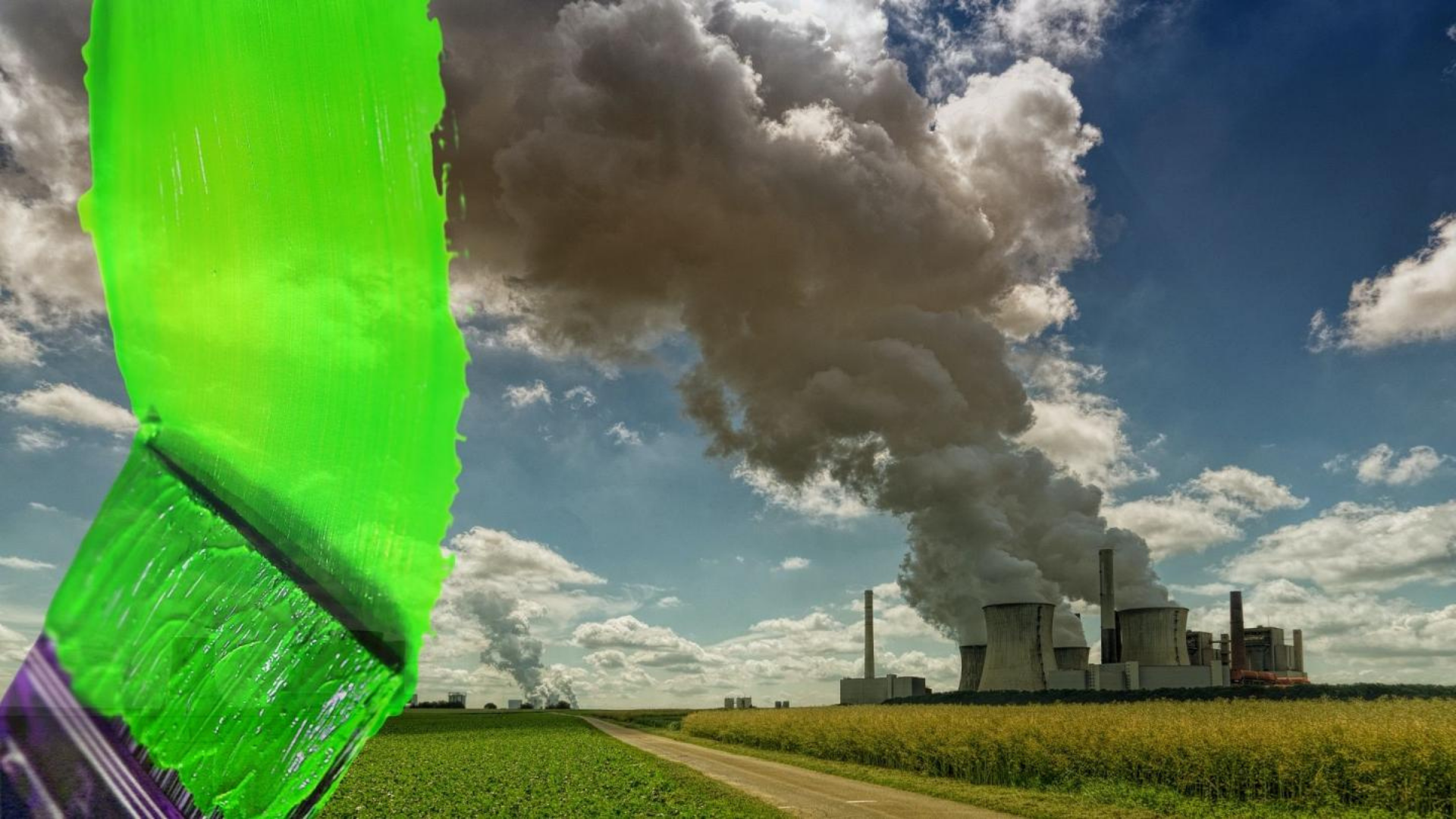 Our vision is simple and powerful: to become a company that takes care of the Positive  Energy for customers, employees, and other partners in the value chain, particularly farmers who are working in organic farming. We exploit local resources and a global growth mindset to make the world more equitable and sustainable. With "Smart-Up" mindset, we have re-invented a new way to drink whole plant-based; it is not only "Fair for People's Health" but also "Fair for Society" and for "Our Mother Nature".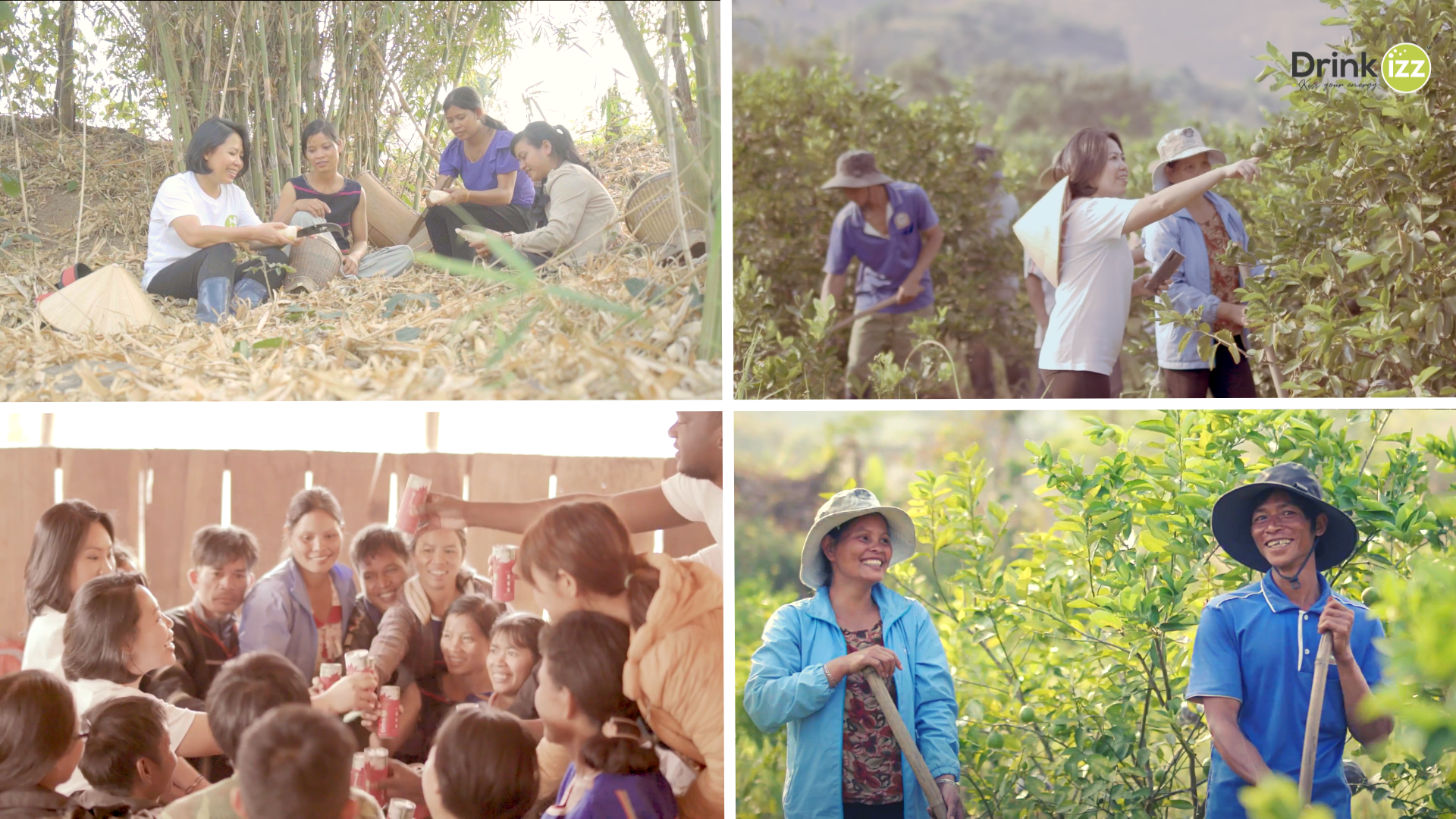 4. What is the Fair for Life Fund?
Once committed to Fair for Life certification, we contribute a portion of profits to the "Fair for Life Fund"  to  support small-scale producers, workers, and vulnerable farmers in rural areas to develop in a sustainable way. This fund is managed by all parties involved in the production process of the whole organic value chain and is controlled by the organization "Ecocert SA" to ensure efficiency and fairness.
O.N.E drink (Organic Natural Energy), certified as Fair for Life, promotes fair trade, commits to long-term and responsible action throughout the supply chain.
Each O.N.E  can is made with:
25.7%

of organic agricultural ingredients are Fair for Life – Fair Trade certified.

10%

– Fair Trade and certified organic ingredients are purchased at least 10% higher than the price of only certified organic ingredients.

1%

revenue per each can is contributed to the "Fair for Life Fund" to support small-scale producers, workers, and vulnerable farmers in rural areas to develop in a sustainable way.
Thus, when you choose to drink 1 can of O.N.E, you will have a direct impact on the entire organic value chain. Stay turned  to follow the  next articles to understand how we operate the fund!