It can be said that dinner is the most awaited time of the day for most of us. It is the time when we put all work aside to spend time with family, friends, or loved ones. Dinner Romance with the certain sourness of passion fruit and the deep sweetness of maple leaves is the key to making your dinner more sublime and complete. Quyen combined with O.N.E Diner Romance; this recipe is the secret to making your meal more magnificent and exclusive, with the distinctive sourness of passion fruit and the deep sweetness of maple leaves. This recipe, which Quyen has combined with O.N.E, will provide you with a good appetite, relaxation, and stress relief after a long day at work.
1. A more romantic dinner with Diner Romance!
This recipe is a refreshing combination of O.N.E Drinkizz with passion fruit, ginger, and maple syrup. The sour flavor and unique scent of passion fruit blend with the mild spicy taste of fresh ginger to gently and delicately excite the taste buds. The warm sweetness of maple leaves improves taste balance. 
Due to its low acid level, passion fruit offers a nice sour flavor and may be used with maple syrup for a better appetite. Enjoying your meal with Dinner Romance helps enhance the digestive system's functioning, preventing common problems such as indigestion. Simultaneously, the nutrients in O.N.E and fresh ginger provide nutrition to the body. And nothing is more suitable for dinner than a bit lighter and cooler refreshment from O.N.E.
Finally, the eye-catching color from the drink will let you thoroughly enjoy your meal.
2. Ingredients and Instructions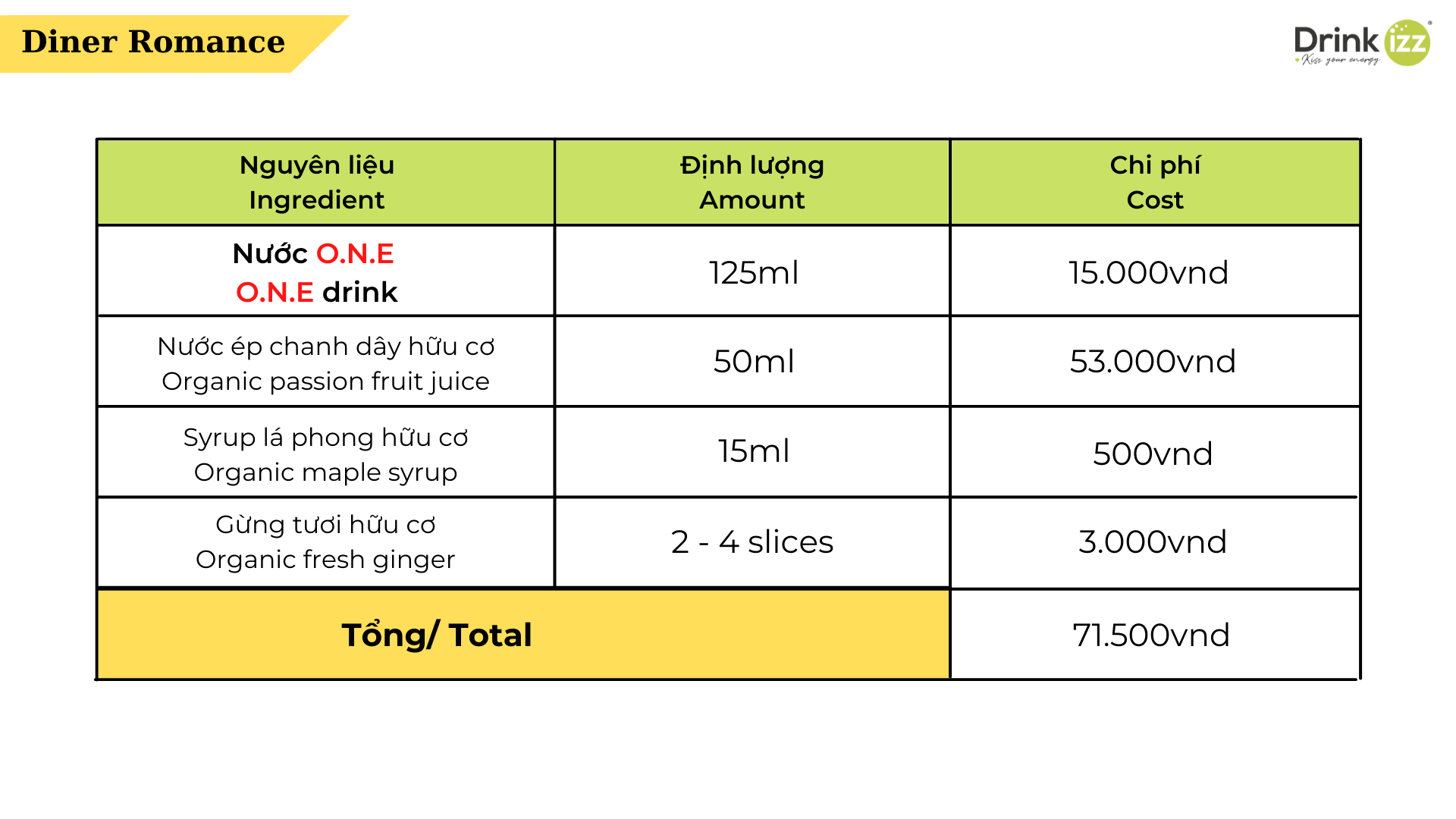 Instructions: 
Prepare a tall glass – any type you have at home.
(You can choose any beautiful glass for a fancy dinner.)
Cut the passion fruit in half, scrape the inside with a spoon, and put it in the blender.

Add about 10-20ml of water for each passion fruit.

Set the setting to lowest and blend once to two times. Then filter the seeds to get the juice.

Peel the fresh ginger and slice it thinly.

Pour 40ml of fresh passion fruit juice into a glass.

Continue to pour in 10 ml of maple syrup.

Then add about 2-4 thin slices of ginger and lightly crush it so that the ginger can extract more flavor.

Gently stir it for a better blended

Fill the glass with ice

Lastly, gently pour 125ml of O.N.E Drinkizz over ice, don't forget it's only half a can!

Decorate with fresh ginger or ginger jam, add a sprig of mint to make the glass more eye-catching.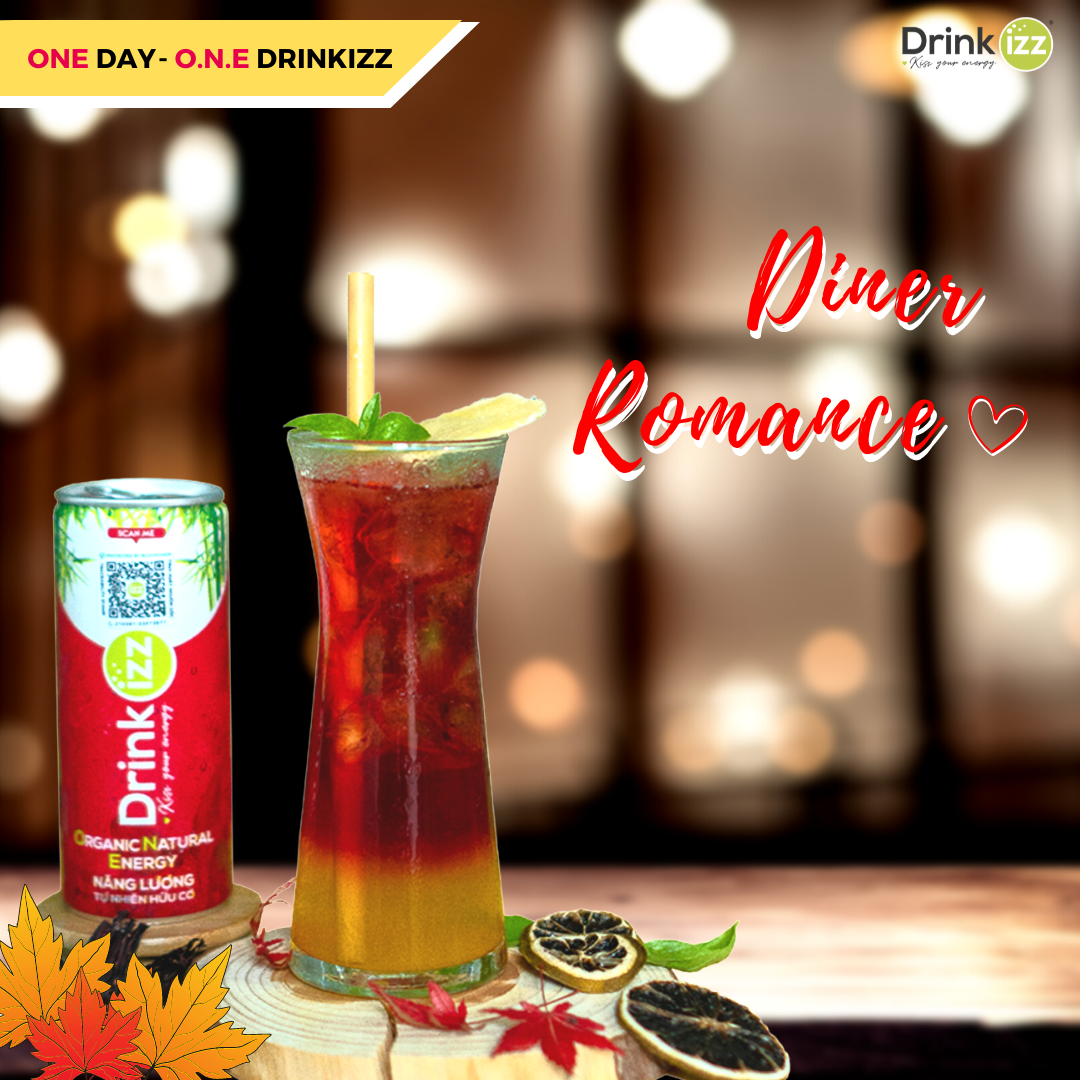 3. Nutritional benefits
Each "Diner Romance" glass has 125ml O.N.E containing:
12.5mg Theine, equivalent to 6.5% of the maximum daily recommended intake of 200mg (according to a 2000 kcal diet) by nutritionist Drinkizz. Theine helps to relax, wake up and focus from 6 to 8 hours. (Read more)
625 μmol of abundant antioxidants, equivalent to 7% of the FDA's recommended daily intake. Antioxidants help balance free radicals – the cause of disease and aging, and improve the body's energy metabolism thanks to anti-oxidants. (Read more)
8.75 mg of silica, which is 12% of the recommended daily intake. Silica helps in collagen production, which boosts the body's metabolism and energy levels. (Read more)

O.N.E can supplement many other essential minerals such as calcium, iron, potassium, magnesium, etc.
Besides that:
In 50ml of Passion fruit juice has 15mg of vitamin C and other amino acids to help strengthen the immune system, in addition, 2mg of fiber, 174mg of potassium, and some other minerals that help increase blood flow and reduce the tension of blood vessels, stabilize blood pressure.

Fresh ginger contains Cineol, with a variety of vitamins and minerals to help keep the body warm, prevent colds, reduce cough, and strengthen the immune system. In addition, fresh ginger also has the effect of lowering cholesterol and controlling blood sugar. 
A delicious meal, a nutritious drink is a way to show your love. Diner Romance allows you and your loved one to relax and enjoy an entire dinner together and provides your body with nutritious food. Quyen believes that Dinner Romance is more than a glass of healthy drink, it's a means to show our love for our loved ones, especially in the midst of the Covid-19 pandemic.
Links for ingredients purchasing:
O.N.E Drinkizz:
Other ingredients:
https://ryansgrocery.vn/?lang=en
Nutrition facts: