Today, I will bring everyone to Kon Tum – the land of mountains. As one of the cradles of Central Highlands culture, Kon Tum converges distinct cultural identities with specific customs and habits such as gong festivals, where wild nature is associated with heroic epics. To portray the wild and strong of Kon Tum, Nam will bring everyone a cocktail with extremely bold flavors, arousing your curiosity and excitement. It has a unique taste, helps you relieve stress, and regenerates strong energy! And now, let's start to make our "Kon Tum Kizz"!
1. Kon Tum Kizz – Explosive energy with powerful flavors from the highlands!
Kon Tum, the end of the North Central Highlands, has many delicious and unique specialties, but very simple and close. That is the famous dried bamboo sprout! Kon Tum dried bamboo sprout have a sweet, nutty taste that is not bitter, making it impossible to find anywhere else.
To combine well with the unique flavor of Kon Tum dried bamboo sprout, I chose a Vietnamese Gin with a strong spices mountain flavor like 'hạt dổi", "mắc khén",…. Finally, the O.N.E Drinkizz! One of the three main ingredients of O.N.E Drinkizz is bamboo sprout, which is a poetic touch and especially helps to make Kon Tum Kizz's taste more passionate with the sound of Dai Ngan. Another unique plus is the herbal flavor from O.N.E Drinkizz that helps our Kon Tum Kizz retain its modernity and sophistication.
Kon Tum Kizz not only helps you discover the unique flavors of the mountains, challenge yourself with new combinations, but also provides you with a sustainable energy source from O.N.E Drinkizz. In addition, Kon Tum Kizz also contains organic bamboo sprouts rich in nutrients such as silica, proteins, minerals, and vitamins to help strengthen the body and brighten the skin.
On those boring midweek days, tired with work pressure, Kon Tum Kizz will be a perfect choice to awaken the excitement, the joy of discovering new things, or simply the curiosity of the kid inside each of us.
2. Ingredients and Instructions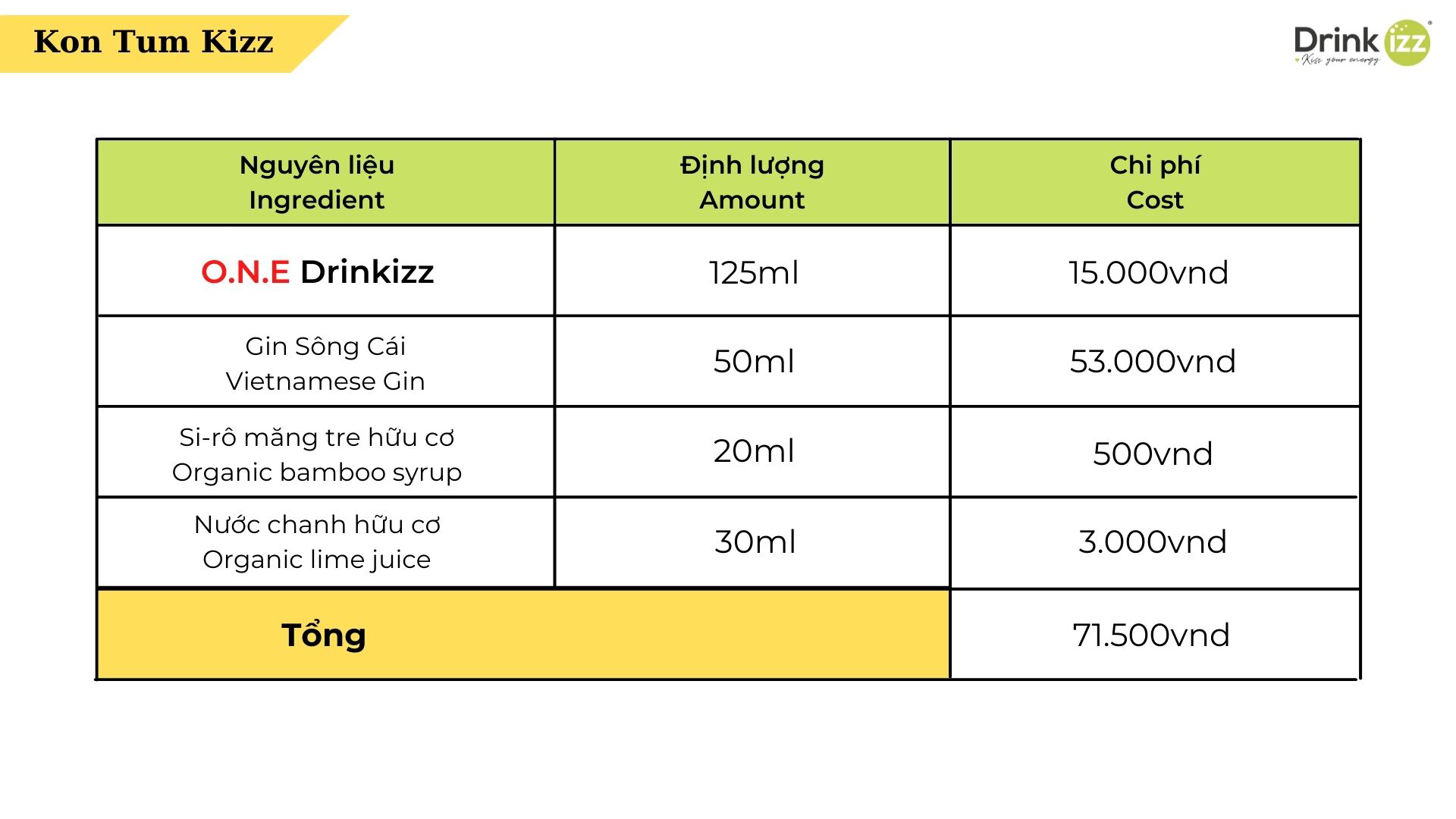 First, Let's cook the bamboo sprout syrup.

Prepare a pot, add 300ml of water and bring to a boil.

When the water boils, add 10g of the pre-processed dried bamboo sprout to cook.
(Preliminary preparation of dried bamboo shoots is also quite simple! You just need to wash the bamboo sprouts with cold water and then soak them in warm water for 6-8 hours before using.)
Next, add 500g of caster sugar and stir well until the sugar dissolves.

Now it's time to start making the cocktail.

First, put 45ml of Vietnamese Gin in a shaker.

Next, I will squeeze 30ml of lime juice and add 20ml of bamboo sprout syrup into the shaker.

Fill the shaker with ice and shake well.

Choose a tall glass and fill it with ice, then pour the shaken mixture into the glass.

Gently pour 125ml O.N.E Drinkizz into the glass.

Finally, decorate with a lovely piece of dried bamboo shoots.
And that's it, we've finished an interesting cocktail!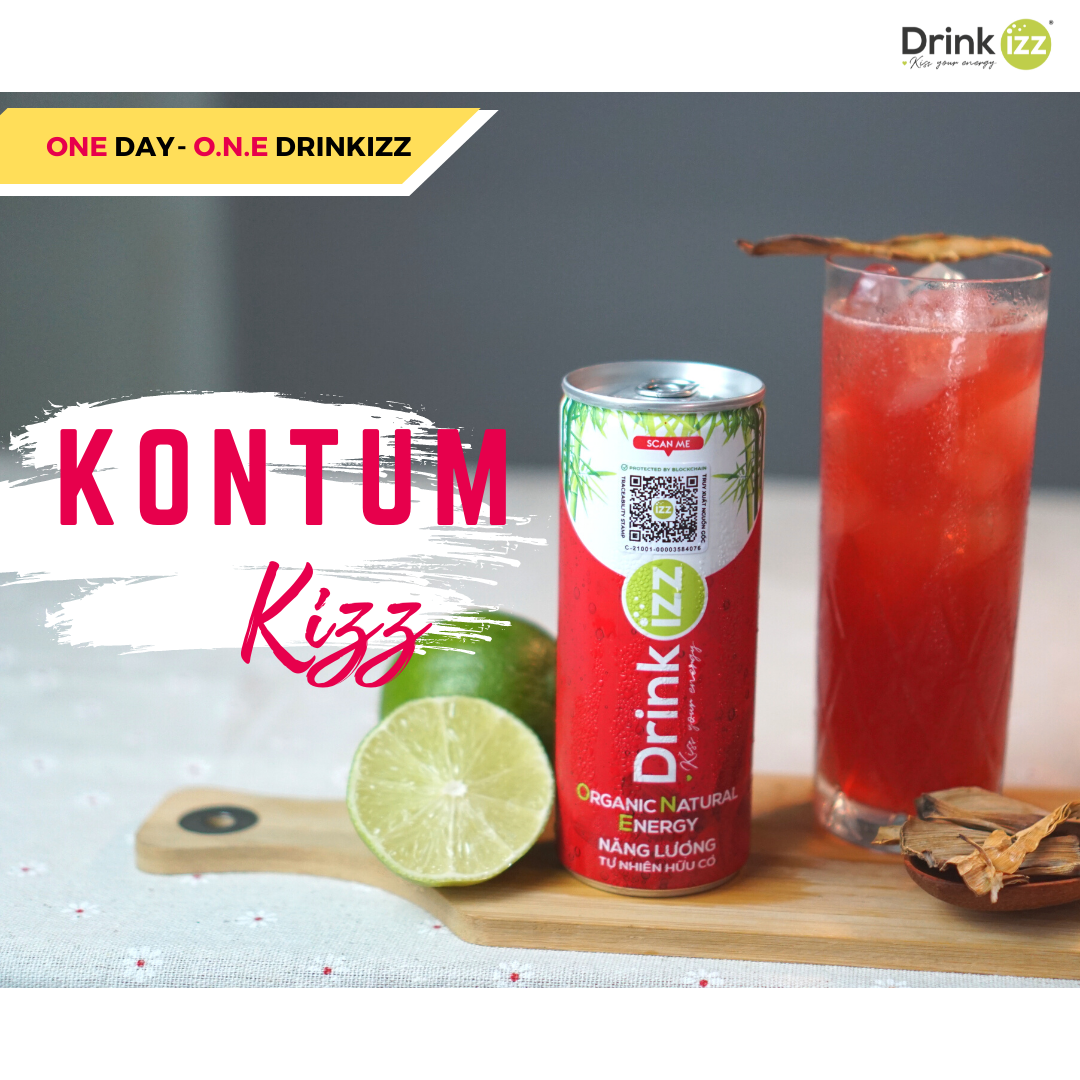 3. Nutritional benefits
Each Kontum Kizz has:
125ml O.N.E containing:
12.5mg Theine, equivalent to 6.5% of the maximum daily recommended intake of 200mg (according to a 2000 kcal diet) by nutritionist Drinkizz. Theine helps to relax, wake up and focus from 6 to 8 hours. (Read more)
625 μmol of abundant antioxidants, equivalent to 7% of the FDA's recommended daily intake. Antioxidants help balance free radicals – the cause of disease and aging, and improve the body's energy metabolism thanks to anti-oxidants. (Read more)
8.75 mg of silica, which is 12% of the recommended daily intake. Silica helps in collagen production, which boosts the body's metabolism and energy levels. (Read more)

O.N.E can supplement many other essential minerals such as calcium, iron, potassium, magnesium, etc.
The pristine Kon Tum hidden in it is not only the irresistible beauty of the natural scenery but also the extremely unique customs, lifestyles, and cuisine of the Ba Na, M'nong ethnic minorities… Take a sip of Kon Tum Kizz after a tiring working week, listening to the typical song of highland, you will forget all your stress and gently let your emotions drift among the majestic, poetic, and peaceful nature.
Links for ingredients purchasing:
O.N.E Drinkizz:
Other ingredients:
https://ryansgrocery.vn/?lang=en
Nutrition facts: