Forty years ago in a small town in the country of a boot, celebrity chef Carminantonio Iannaccone created Tiramisu. What he did not expect was that Tiramisu would become one of the highlights of Italian cuisine. The recipe and image of the sweet Tiramisu cake spread around the world and became a symbol of love for couples. Inspired by this interesting cake, I (Linh Nguyen) – Drinkizz's R&D Taste expert created Tiramisu with a unique recipe: Tiramisu combined with black tea and O.N.E drink!
1. New recipe tiramisu with black tea
The traditional tiramisu is like a dessert pudding consisting of a piece of gato cake or cookie that is lightly flavored with alcohol, sprinkled with a little coffee powder, and made with lots of eggs. With traditional Tiramisu, the layers are made individually without sticking, to this day, people use cheese to make them more attractive.
With my understanding of French cuisine, I have improved Tiramisu to be more unique:
Black tea powder. Black tea has a characteristic aroma, mild, with a mild acrid taste compared to coffee or cocoa powder. That's why black tea balances the sweetness of Tiramisu, avoiding boredom when enjoying.

Soak cookies with rum and black tea. This allows each piece of cake to fully absorb the flavor of the wine and tea, without being dry and stale.

The unique sweet and sour taste from organic herbs of O.N.E drink will help enhance the flavor layers, making your desserts more special than ever.
2. Ingredients and instructions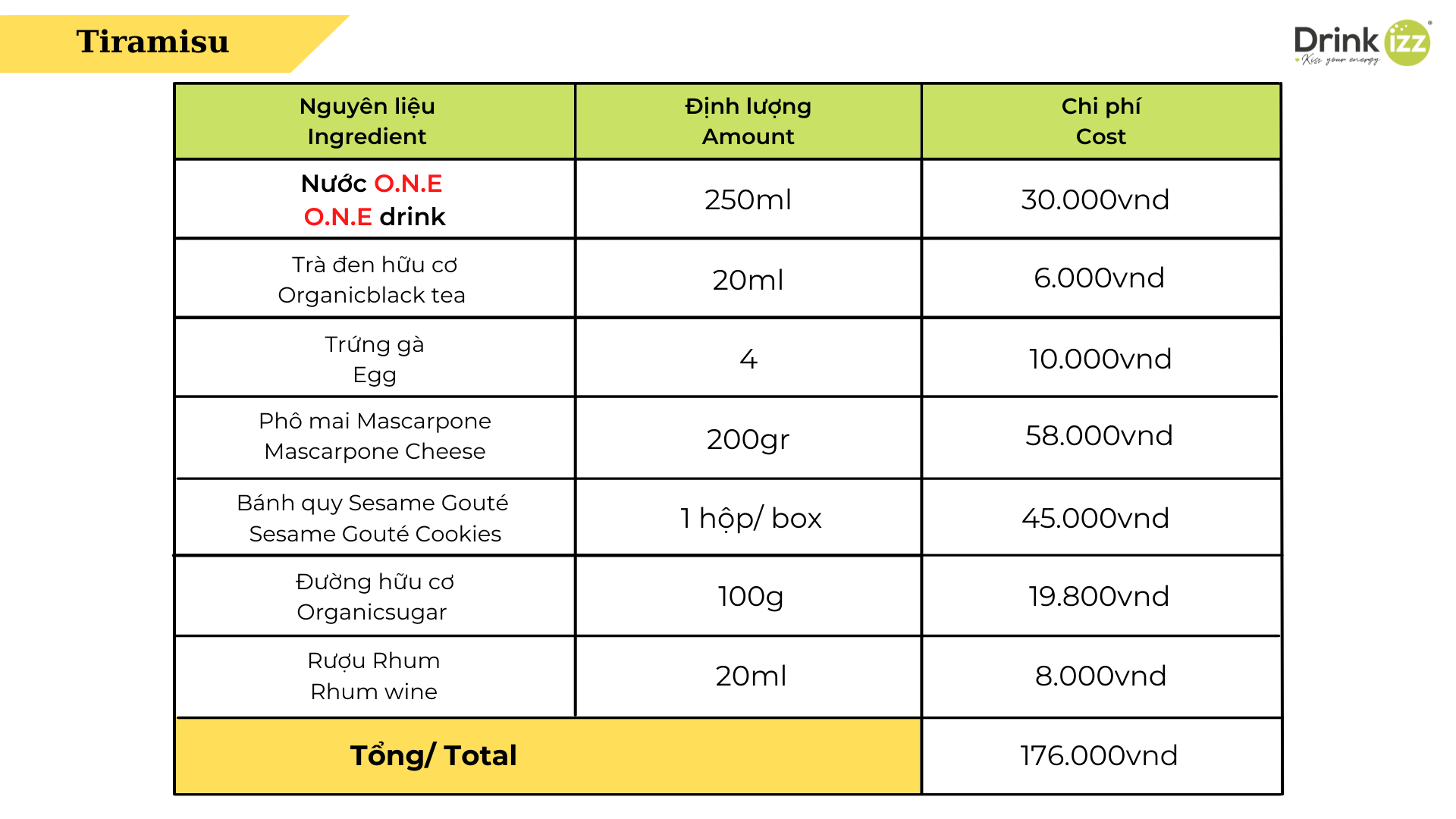 Recipe for 4 people:
Prepare tea. Boil 600ml of water and brew 20g of black tea for 20 minutes. Then pour the tea into a large plate.

Add 20ml of rum into the tea.

Soak 5 Sesame Gouté cookies in the tea and wine mixture for 30 seconds. Then place the cake in a glass and keep it in the refrigerator.

Next, separate the egg whites and yolks into 2 large bowls.

Use an egg beater to beat the egg yolks. During the beating process, add 80g of sugar and remember to divide it into several times. Beat until the mixture turns white, then stop.

Continue beating the egg whites. Add 20g of sugar and beat until the whites are foamy, then stop.

Place Mascarpone cheese in a bowl and beat until soft.

Then add the beaten yolks to the cheese bowl. Mix well. Then add the egg whites and stir gently until the mixture is uniform.

Take the cake glass from the refrigerator, put the finished custard mixture on top of the cake.

Finally, sprinkle a layer of black tea powder on top and enjoy!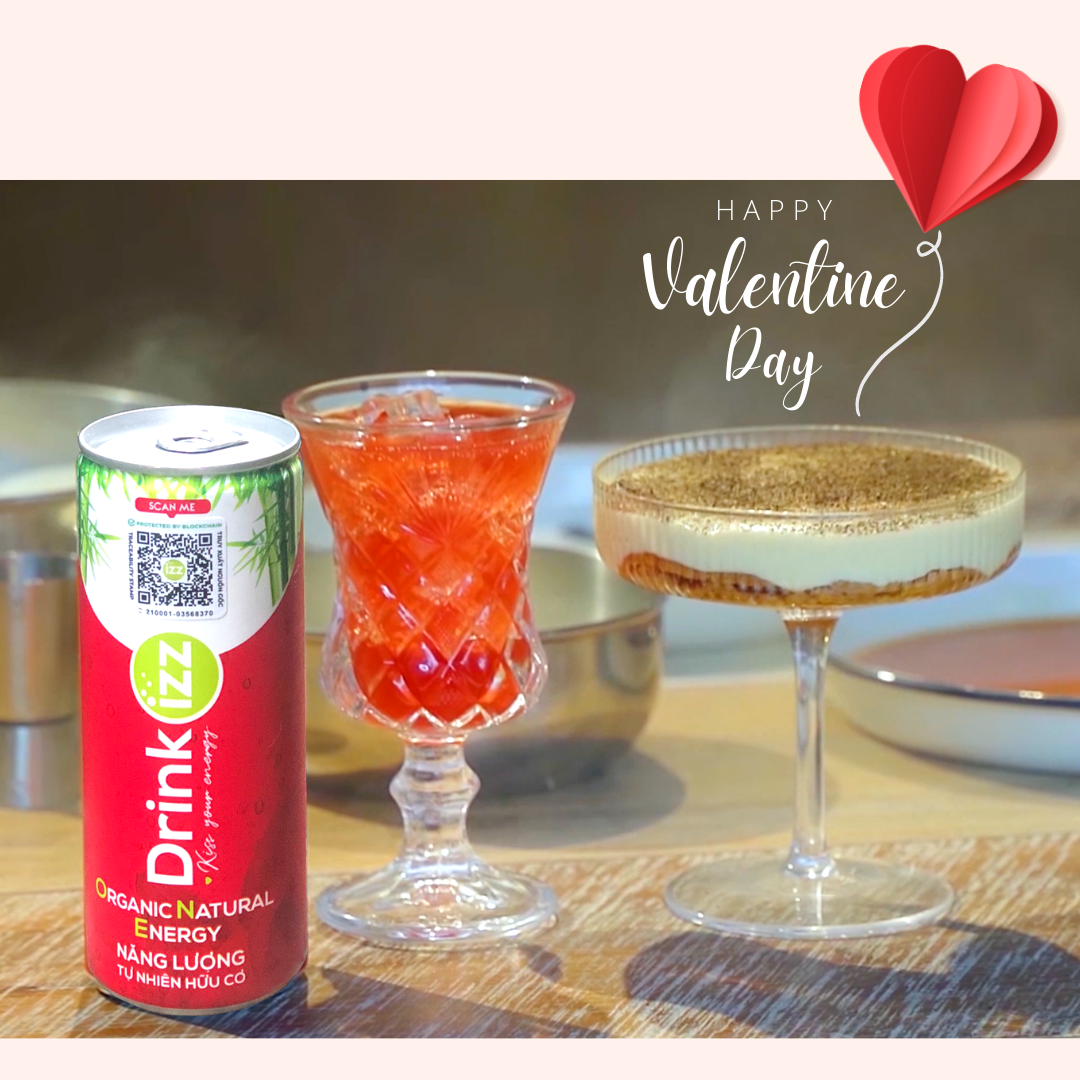 3. Nutritional benefits
Organic black tea powder with Theine, L-Theanine, antioxidants has many great health effects:
Good for heart health

Improve the immune system

Boost energy
Besides, each 250ml can of O.N.E contains:
25mg Theine, equivalent to 13% of the maximum daily recommended intake of 200mg (according to a 2000 kcal diet) by nutritionist Drinkizz. Theine helps to relax, wake up and focus from 6 to 8 hours. (

Read more

)
1250 μmol of abundant antioxidants, equivalent to 14% of the FDA's recommended daily intake. Antioxidants help balance free radicals – the cause of disease and aging, and improve the body's energy metabolism thanks to anti-oxidants. (

Read more

)
17.5 mg of silica, which is 24% of the recommended daily intake. Silica helps in collagen production, which boosts the body's metabolism and energy levels. (

Read more

)

O.N.E can supplement many other essential minerals such as calcium, iron, potassium, magnesium, etc.
Tiramisu is an easy recipe to make at home with simple ingredients. This recipe is the perfect choice for you to make desserts for your family on weekends or special occasions without fear of too many calories, nutritious and healthy!
Links for ingredients purchasing:
O.N.E drink
Other ingredients:
https://ryansgrocery.vn/?lang=en
Nutrition facts: