For many of us, having a deep sleep all night is all we ever want after a hard-working day. But various factors in life have interfered with our sleep habits, such as work pressure, unhealthy living habits, and living conditions. These factors challenge us to maintain a healthy sleep habit.
There is no need to worry because I will guide you through a mocktail recipe. This mocktail with natural ingredients will calm you down and reduce your stress for more effortless falling asleep.
1. Let's Sweet Dream help you relax, sleep well and regain your energy!
With this recipe, the main ingredient is Butterfly Pea Flower and O.N.E Drinkizz. Butterfly Pea Flower tea is common for effective insomnia treatment by stress relief and naturally improving sleep quality. With mint and lemongrass in O.N.E, your body will be even more calming down, anxiety-reducing, making your body more comfortable and easier to fall asleep. Besides, O.N.E Drinkizz provides you with antioxidants, silica, and other essential minerals assisting your body in regaining energy for a new day! 
I have combined the kumquat juice and the enjoyable sweetness flavor from vanilla, adding on with the unique herbal flavor from O.N.E Dirnkizz. And last but not least is my favorite taro ice cream. A little sweet for the sweeter dreams and better nights of sleep. 
In addition, the significant vividly blue color of the butterfly pea flower also has a sedative effect. Nothing is better than falling into sleep with a relaxing mind, isn't it?
2. Ingredients and Instructions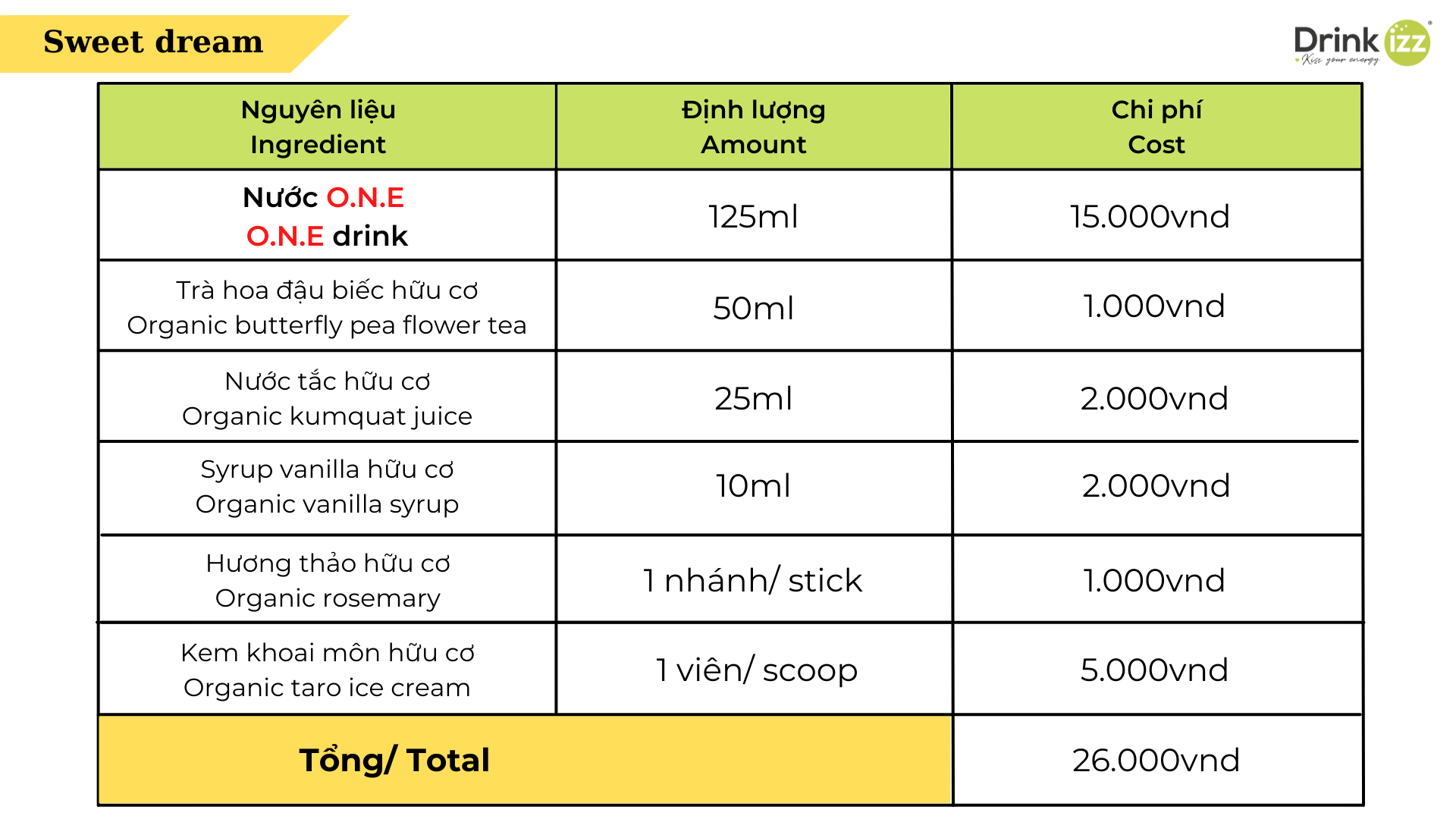 Instruction:
First of all, we will make the butterfly pea flower tea.

Add about two tablespoons and 200ml of boiling water into the teapot.

While we're waiting for the tea to cool down, we will start working on the drink.

Get any tall glass you have at home.

Gently pour 125ml of O.N.E Drinkizz into the glass. (About half of the can)

After that, add 25ml of kumquat juice (about 2-3 kumquats) and 10ml of vanilla syrup.

Gently stir it for a better-blended mixture.

Nextly, fill the glass with ice and very gently pour out 50ml of cool-down butterfly pea flower tea on top.

Finally, let's decorate it with a scoop of creamy taro ice cream and sprig rosemary with a delightful aroma.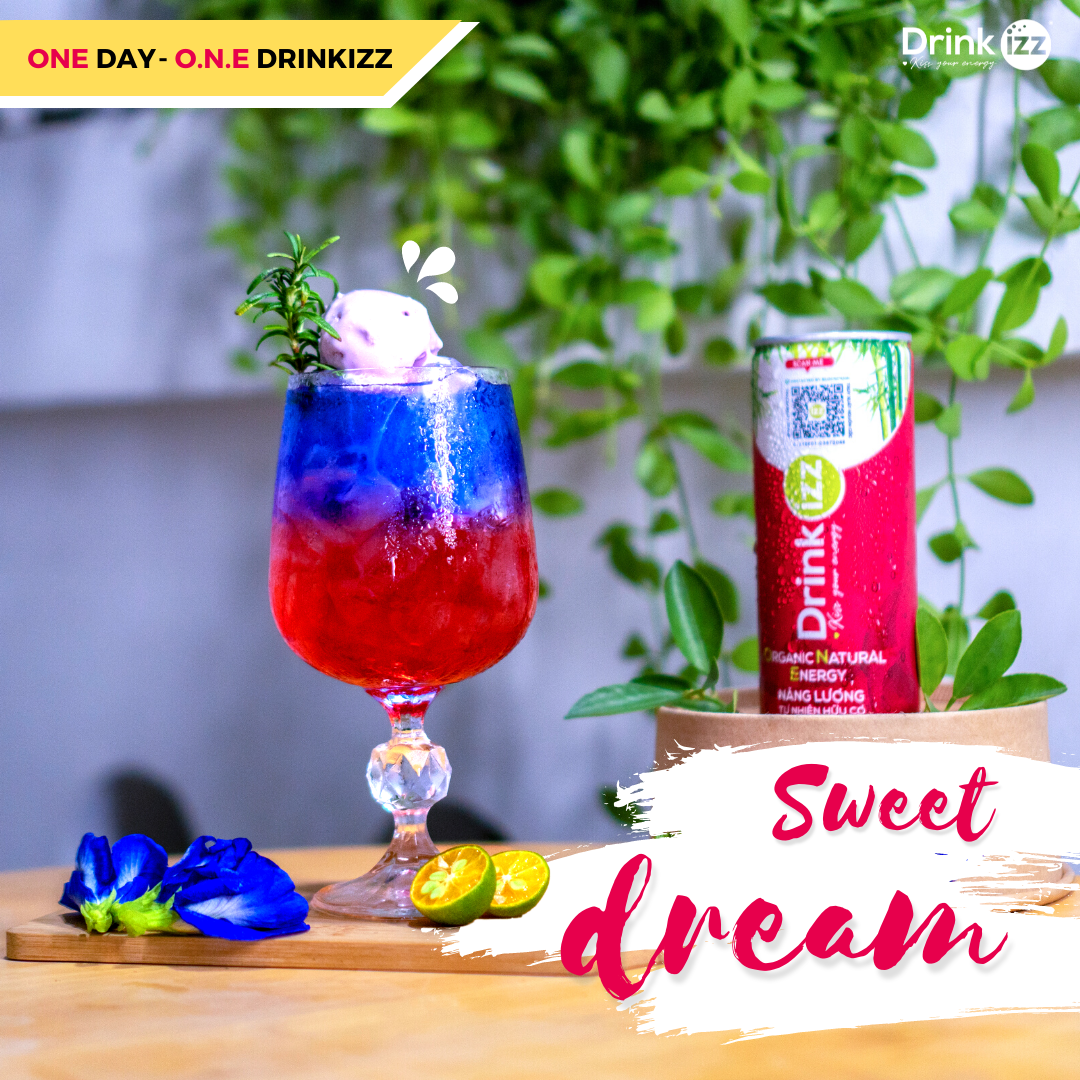 3. Nutritional benefits
Each Sweet dream has:
125ml O.N.E containing:
12.5mg Theine, equivalent to 6.5% of the maximum daily recommended intake of 200mg (according to a 2000 kcal diet) by nutritionist Drinkizz. Theine helps to relax, wake up and focus from 6 to 8 hours. (Read more)
625 μmol of abundant antioxidants, equivalent to 7% of the FDA's recommended daily intake. Antioxidants help balance free radicals – the cause of disease and aging, and improve the body's energy metabolism thanks to anti-oxidants. (Read more)
8.75 mg of silica, which is 12% of the recommended daily intake. Silica helps in collagen production, which boosts the body's metabolism and energy levels. (Read more)

O.N.E can supplement many other essential minerals such as calcium, iron, potassium, magnesium, etc.
Besides that 
50ml of butterfly pea flower tea

contains anthocyanin, known for stress relief, bringing you a better and deeper sleep. Moreover, butterfly pea flower tea has various benefits such as blood sugar controlling for people with diabetes, weight loss, memory and eyesight improvement.
Better sleep means your body can secrete more hormones promoting your metabolism, which assists your body in regaining energy for a new day. Therefore, we always need to learn to improve our sleep quality more and more. Let's rest entirely and adequately with our Sweet Dream.
Links for ingredients purchasing:
O.N.E Drinkizz:
Other ingredients:
https://ryansgrocery.vn/?lang=en
Nutrition facts: